Spartans reach century mark in 100-58 victory over Colonials
The defending NEC women's basketball champs traveled to Michigan State University on Saturday to take on the Spartans. In a tough game against the team from the Big Ten, the Colonials fell by a score of 100-58.
"It was a very tough test for a first game," said RMU head coach Charlie Buscaglia. "You know, losing a senior class like the one we did at the one, two and three with so much production and so much experience. We knew that there was going to be some growing pains early on when you're playing a team at this level. A top-25 caliber team, and they returned a lot of players. They are very athletic with the ball."
The game started off poorly for the Colonials as Michigan State quickly jumped off to a 10-0 lead. That first quarter ended up not being as bad as it could have been, as after Robert Morris fell down 17-3, they would score eight consecutive points to bring it within six.
Unfortunately for the Colonials, the streaky quarter for both teams would switch to the other side of the floor as the Spartans would then go on a 8-3 run to end the first quarter. The final score at the end of the first would be 25-14.
The second quarter was where Michigan State began to pull away, as Robert Morris was outscored 29-8. That would give Michigan State a 54-22 lead at the half.
Robert Morris was not out of it yet though, as they would they would outscore Michigan State by a score of 25-22 in the third quarter. That quarter was capitalized by a 20-6 run by the Colonials. Unfortunately, the game would continue to be out of reach when MSU would respond with a 12-5 run to make the score 76-47 at the end of the half.
The fourth quarter would be all Michigan State as they outscored the Colonials 24-11. The Spartans had a run of 7-0 followed by another one of 11-0 to officially shut the door on Robert Morris.
The Colonials (0-1) wound up losing by a score of 100-58.
Coach Buscaglia said about the game, "The takeaway from this is that when you play this kind of level, they expose a lot of things you need to get better at. Having injuries and things like that, people need to step up. You not only have to step up, but you have to be ready to step up at a high level. We got some work to do. We definitely got some work to do. We're going to use this as a positive going forward and we learn from these mistakes."
In the game, the Colonials struggled immensely with keeping the ball. They had 18 turnovers in the first half and 27 total in the game. MSU would score 40 of their 100 points off of the turnovers generated from their defense.
"We had some problems with the freshman point guards (Nina Augustin, Honoka Ikematsu). Obviously, we tried to do some things to help them, but I wanted them to keep on going out there and trying to fight, and the fight needed to be strong," said Coach Buscaglia.
Coming into the game, Robert Morris didn't know if freshman Megan Callahan would play. She rolled her ankle in practice on Friday and didn't start on Saturday. Callahan would end up being the leading scorer for RMU with 14 points. She also shot 4-6 from the three point line.
"We kept our faith really strong after that," said Coach Buscaglia, "I think the official meeting with the trainer was that it would be a miracle if she could go out and play. He was thinking it was maybe even a high ankle sprain. She was in a lot of pain, and she swelled up immediately. I didn't think there was any chance of her playing. She showed a lot of heart, not only did she put the ball in the basket today, but just going out there. Just going out there and wanting to battle."
When it comes to the game, Coach Buscaglia did take at least one amazing thing away from it. Callahan's passion by playing today was an inspirational moment for the Colonials.
"I'm in it for different reasons. I'm not just in it for win-lose. I'm in it for to see someone like that, at a young age go out there for her team. And want to go out there and play with that kind of passion. That was amazing for me. So, besides what she did by putting the ball in the basket, just going out there and wanting to play after rolling her ankle on Friday. And really performing a minor miracle by getting out there on the court today. That was pretty amazing. I'm really proud of her, very very proud."
About the Writer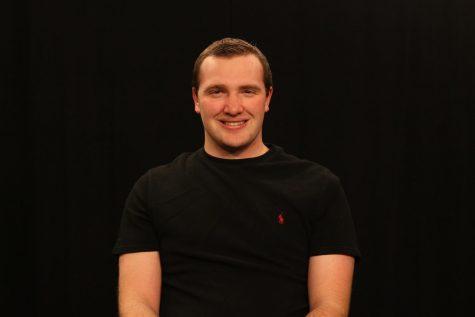 Logan Carney, Sentry & CSN Co-DCM
Logan Carney is a communications major with a focus in sports and he also has a sport management minor. He is in his fourth semester at Robert Morris....