Unlikely heroes emerge to lift Robert Morris over CCSU
Before all of the thrill and excitement took place in the fourth quarter at Joe Walton Stadium on Saturday, Robert Morris' matchup against CCSU was setting up to be the same old story.
Down big midway through the second half and on the brink of an 0-7 record, the Colonials abruptly came to life at the right time to erase an 18-point deficit and win 27-24. It took a little longer than expected, but as John Banaszak told the team after his first Division I FCS win as a head coach; Robert Morris now knows what it takes to win.
The final 15 minutes of play was one of the most exciting finishes to take place in Moon Township in recent history—giving RMU's 31-28 homecoming win over Lafayette on a last-second field goal in 2012 a serious run for its money.
Breaking through the mold wasn't an easy task for Robert Morris. Everyone following the program, including the media, figured this team had quit and was already looking to 2015. They proved a lot of people wrong however, and as CCSU's lead slowly began to dwindle on Saturday, several unlikely contributors emerged to help clear the fog that's been hovering over the program throughout the last eight weeks.
Players like Nic Lamica, Derik Abbott, Ryan Thermil, Luke Centofanti and Hunter Khaleghi were not exactly tabbed as game-changers at the season's start. On Saturday, they more than fit the description.
Lamica's coming-out party, eight receptions for 112 yards and a touchdown, painted a picture for NEC defensive coordinators of just what they'll be dealing with for the next three years. His athleticism makes him a threat regardless of where he is on the field. Saturday being only Lamica's third game at receiver puts even more perspective on the amount of potential he holds at the positon.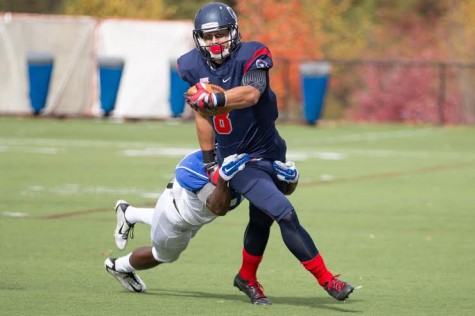 At quarterback, Abbott did exactly what Robert Morris has needed all season from the position; he managed the game, especially in the fourth quarter.
"With everybody jumping around and acting all crazy and everything, my job was just kind of to calm everybody down," he said. "To try and keep an even-keel all game because there's going to be ups and downs, so I just tried to get my guys settled down."
Unlike his first two starts, the redshirt-sophomore didn't try to do too much. He took care of the football, and kept a calm approach when things started getting rocky. One of Abbott's best qualities has always been his leadership, and it was extremely vital at a point in the season where the Colonials probably needed it most.
"Derik stepped up. He made some real good plays," said Centofanti. "He made it easy for the receivers putting the ball right where he needed it to. I know the [offensive line] gave him a lot of time for us to work on our DBs and it clicked."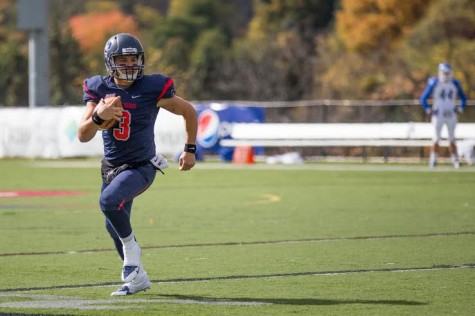 With Sean Gavin out due to a shoulder injury, Centofanti made his first-career start at wide receiver in the slot. The 5-foot-11, 190 pound West Mifflin product didn't see any game action at receiver in his first two years, and came into CCSU with just six receptions on the season.
Centofanti nearly matched his season mark with five catches for 62 yards against the Blue Devils. Several of his grabs came on third and fourth down to extend Robert Morris drives, and he proved himself a reliable target in the Colonial offense going forward.
"I think Luke got a nickname at halftime. I started calling him sticky," Abbott said with a laugh. "That kid was catching everything. He's done that in practice, he's like a clone of [Sean Gavin] honestly."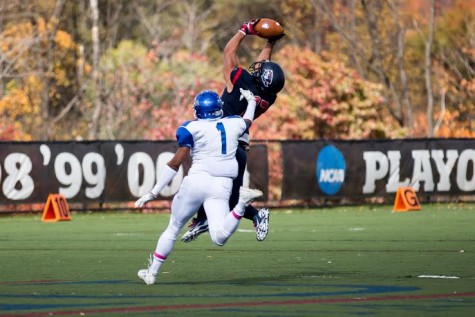 The status of Thermil had been one of the ongoing question marks from week-to-week this season. At the fullback position, Thermil was a key returner from last year's offense and a veteran presence in the locker room. The change to a spread offensive scheme didn't fit the power-runner's skill set, and ongoing injuries made it harder for him to see significant action this season.
When freshman tailback Rameses Owens exited the game with a knee injury in the third quarter, Thermil's number was called. 32 carries and 113 yards later, he was smiling from ear-to-ear as the Colonials celebrated their first win.
"I had so much comfort, the most comfort I've ever had on the field," Thermil said. "Even times when I was hurting, I knew [Derik Abbott] was always keeping me up. All the guys,[Duane Mitchell] was always keeping me up. Just to step into that role and do that for my teammates was an awesome opportunity."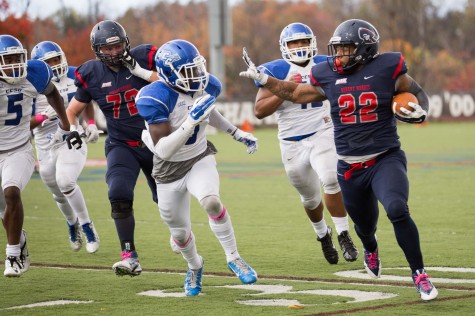 Senior kicker Hunter Khaleghi broke a school record dating back to 1998 by connecting on all four of his field goal attempts Saturday. He also squeezed an onside kick in the first quarter that Robert Morris recovered.
Although the Colonial offense didn't like settling for field goals, Khaleghi's 12 points on the day came up huge. His final make, a 22 yard attempt on fourth down with 5:15 remaining, ended up being the deciding points of the contest.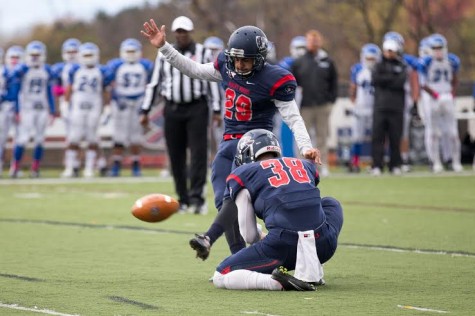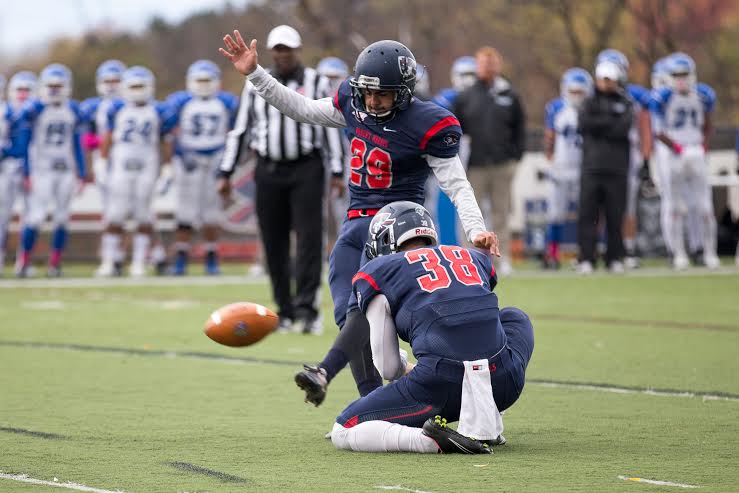 The Colonials finally played like a complete team on Saturday. Both the offensive and defensive units held a sense of accountability for each other. After giving up 96 rushing yards and two touchdowns to CCSU's All-NEC running back Rob Hollomon in the first two quarters, the RMU defense picked it up in the second half and kept them in the game.
"The coaches just kept telling us to keep fighting. We knew they were going to hit us with a lot of screens and draws," said defensive end Ryan Lewis. "Coaches told us keep fighting and to watch [Hollomon], because pretty much he was their offense. If we stopped 22, we were going to win the game. That's what you saw today."
Earlier in the week, the team voted middle linebacker Mike Stojkovic an official captain, and he led all defenders with nine tackles. Stojkovic was flagged for a couple of questionable personal fouls, but they were productive penalties, with his mean streak setting an example to the other ten guys of the unit.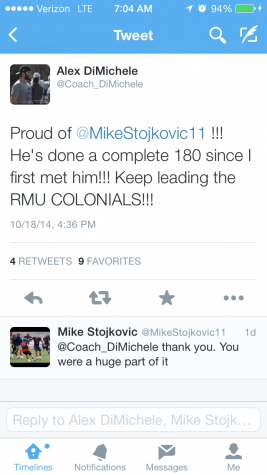 Three forced turnovers by RMU in the fourth quarter proved to be the deciding factor. The offense did come up clutch in the end, but none of it would have been possible had Stojkovic and the defense not buckled down.
"I think it was the best performance of the year from our defense," said Banaszak. "I really thought they played well. I thought we had some horrible calls on the roughing the quarterback and the roughing the punter. When you're in that situation and the defense has to remain on the field, I thought they did a remarkable job—especially at the end when we needed the stops—they got them."
In the grand scheme of things, it's only one win. Robert Morris is still 1-6, and looking up in the NEC standings. The rocky eight weeks to start 2014 can be labeled a transitional period.
With the pressure of a zero-win season diminished, a few of the new faces leading the RMU football program have revealed themselves. Now they'll look for more baby steps, and it starts with an upset of Bryant this weekend.
About the Writer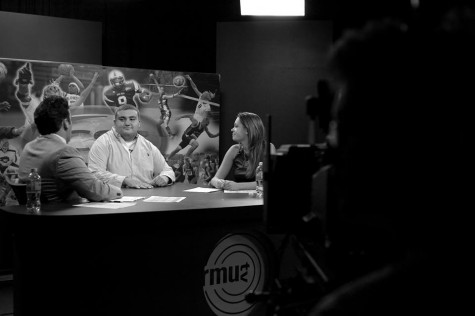 Chris Mueller, Sports Reporter
Chris is a junior Communications major at RMU with an applied concentration in journalism. He is Sports Editor for RMU Sentry Media.  As current Sports...