Hollywood's dark secrets
A new and disturbing trend has arisen in Hollywood: sexual abuse. While most sex scandals in Hollywood are fantastical and full of gossip, this trend is a much darker and more serious issue.
On Oct. 5, Harvey Weinstein, one of the most powerful men in Hollywood, was accused of sexually harassing and abusing women for over three decades. The accusations stated that he used his influence and power to coerce women into performing sexual acts with a promise of future success.

It was apparently well known by many actresses that Weinstein had this reputation. Actress Courtney Love made comments about Weinstein's actions in an interview in 2005. When asked about advice for aspiring actresses, she commented that if Harvey Weinstein invites you to a private party, "don't go."
Shortly after making these comments, she was "eternally banned" by the Creative Artist Agency for her remarks. While she was not a victim, she now is supportive of those who were abused.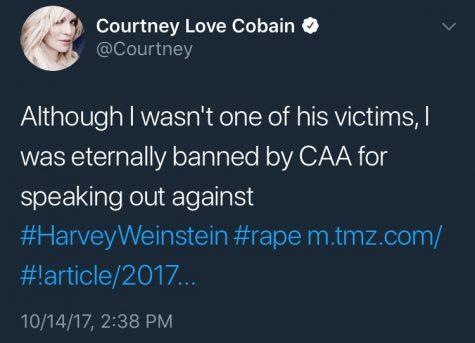 To date, approximately 80 women have accused Weinstein of sexual misconduct, which included lewd and demeaning comments, exposing himself, and physically forcing himself upon women. Weinstein's lawyers claim that no non-consensual actions were committed. As of Oct. 8, Weinstein was removed from his position of co-chair in the Weinstein Company.
Since Weinstein's accusers went public, numerous other actors have been accused of sexual crimes. "House of Cards" actor Kevin Spacey has been accused by multiple young men of committing unsolicited sexual acts while in his presence. Actors such as Anthony Rapp and Roberto Cavazos have made public statements about his luring of young actors and their own experiences with his actions.
One accuser, Harry Dreyfuss, shows that the same cover-ups used for Weinstein were used for Spacey. Harry claims that in 2008, Spacey began groping him during a rehearsal while Harry's father, actor Richard Dreyfuss, was still in the room. In his statement, he claims he didn't speak out because Spacey was "my hero" and "my dad's boss."
Additionally, CNN released a report detailing 8 members of the "House of Cards" staff who were being sexually abused or witnessed abuse from Spacey. One assistant, while in the process of driving Spacey to the set, details how he shoved his hands down the man's pants. He, much like the actresses in Weinstein's case, feared losing his job because "He was a man in a very powerful position on the show and I was someone very low on the totem pole and on the food chain there."
Many victims, such as Harry Dreyfuss, have credited the #MeToo social media campaign as the push that made them go public with their abuse. #MeToo, originally started in 1996 by Tarana Burke, is a campaign to stop sexual abuse and encourage victims to speak out against their abusers. The hashtag has been used by over 4.7 million people in the wake of the Weinstein and Spacey accusations, and it is allowing many people to share experiences they have been silent about.
The knowledge of these events within Hollywood organizations isn't something that should be taken lightly. What these people do is a crime. Despite what their producers tell them about it being a normal thing, it is still a crime. This information should have been reported to the authorities, but people were told to brush it under the rug with their livelihood in the balance.
The actors speaking about this issue shouldn't be ignored; they should act as a wake up call. If you or someone you love has ever been forced into an uncomfortable situation, you shouldn't feel forced to stay silent about it. If you have to choose between your job or your life and well-being, you choose the latter with no question.
This issue isn't just exclusive to actors or actresses: all men and women can be sexually abused. Abusers come from all backgrounds, sexual orientations and genders. If anyone makes you feel uncomfortable, or forces you into a situation you aren't OK with, you should report it to the authorities and seek help.
RMU students seeking help can call the Title IX office, seek counseling or report the incident to the police. Sexual abuse happens everywhere, and it could happen here. If you or someone you love may be a victim, speak up and seek help.