Humans of RMU: The Guitar Player
When he heard the distinctive guitar line of the "The Munsters'" theme song, Joe Hale, RMU Academic Media Center's TV engineer, decided that he loved the sound of the electric guitar. The feeling it gave him was the reason he started playing, and his relationship with music has continued unabated. In fact, it has remained so strong that he is one of the driving forces behind "30 Years Later," a popular local band; however, his interest in forming bands goes back to his teenage years.
"The drummer I'm playing with now — we started playing together back in 1982," Hale said. "But, my first band was when I was 14, which would have been like 1980, and I formed that band, too. I'm always the former of bands, I guess."
Hale plays lead and rhythm guitar with the band, as well as providing vocals for both their recordings and live appearances. They can be seen performing original songs at festivals and clubs throughout the Pittsburgh area, with a heavy focus on performances during the spring and summer.
"We played the 'Deutschtown Music Festival,' and we played the 'RANT Festival' in Lawrenceville," Hale said. "One of the gigs we really love playing, this is the second year, (is) the 'Mad Mex Robinson Harvest Brew Fiesta.' We typically play from May till like September or October, and then we take some months to work on writing new material."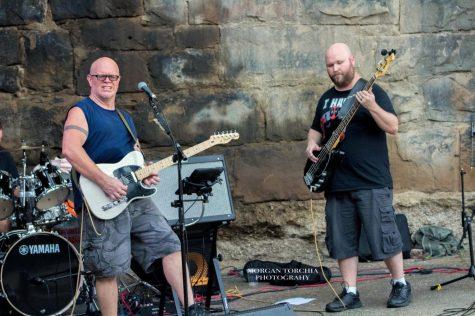 The band has put those months to good use. Their most recent album, "Fate, Ghosts and Gravity," is currently available from music sources such as iTunes, Bandcamp and Spotify, and it is available for purchase on physical media through CD Baby. They have also headed back into the studio to begin work on their newest project.
"We're currently working on our third album, which is called 'Metamorphic Rock,'" Hale said. "We've been working on it for probably six to eight months, but we started recording it (in August), and we got a good chunk of it recorded."
For Hale, falling in love with the electric guitar was really just the first step to a wider interest in technology. That interest in technology and gadgets is at the heart of his performances and of what he does in the Media Center. In fact, he believes that it makes him better at both.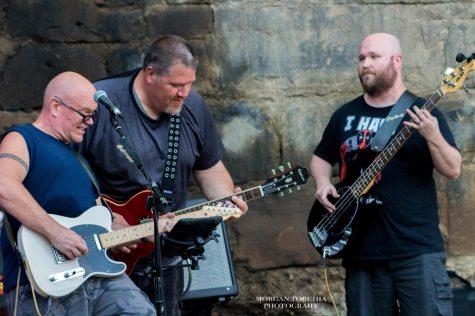 Hale's unique position in these two different worlds also gives him perspective on music in the lives of those on campus. In his 13 years at Robert Morris, he's seen drastic changes in the music that students listen to, with each new class bringing new sounds every school year. Despite that, he has observed that all music can connect people–no matter what the popular trends are.
"What's cool is a lot of the students who work here in the Media Center — they're interested in what I'm doing — they've listened to my music and come to the shows, and even though it's probably not the music that they typically listen to, they seem to enjoy it, and like it, and accept it and are interested in it even though there is a big age gap between the current students and myself," Hale said. "I think good music transcends."
(Editor's note: The annual "Deutschtown Musical Festival" has brought hundreds of bands to Pittsburgh's North Side for six straight years — a tremendous showcase for fans of the local music scene, and it's free. In fact, all the festivals that Hale mentioned are great places to discover Pittsburgh musicians.)