RMU begins student recreation on campus with scheduled freshmen orientation events
MOON TOWNSHIP — After the chaos of 2020 due to COVID-19, new students are ready to participate in the return of recreational student events held on campus during orientation weekend.
Dr. John Locke, Senior Director of Student Life and Theatrical Productions, is excited to host the weekend which is themed "Brand New."
"Everything is Brand New at RMU. It is a new orientation experience. We are hoping to have a little more normalcy," Locke said. "We're going to bring our students together and gather the community and celebrate our new students, wishing them well as they embark on their educational journeys."
The weekend begins on Thursday, also new student move-in day, with a matriculation ceremony at 3 p.m. on the front lawn of The Nicholson Center.
"Matriculation is the bookend of commencement," Locke said. "It is the ceremonial beginning of (new students') RMU career, the beginning of the journey that concludes at commencement."
New students, parents and families are welcome to attend the ceremony along with upperclassmen, student clubs and organizations.
The ceremony will be followed by RMU alumnus Jason Christopher performing a comedy hypnotism act at 7 p.m.
On Friday, there will be an opportunity for students to meet their academic deans at the Dean's Receptions starting at 4:30 p.m.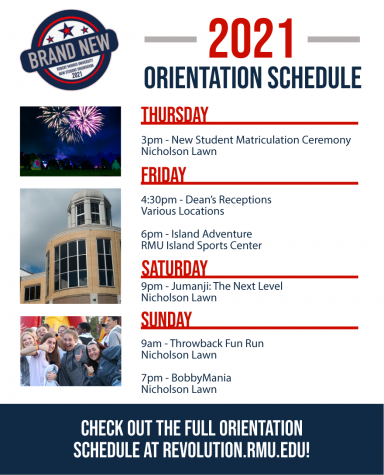 There will also be skating, mini golf, and bowling at the Island Sports Center's Island Adventure event at 7:10 p.m. There will be shuttles departing from the Nicholson parking lot across from John Jay Center at 6:30 p.m.
Saturday includes events from Yoga at the North Athletic Complex at 10 a.m. to the Greek Cookout from 11 a.m. to 1 p.m. at the Gazebo to a number of theatrical events.
RMU Colonial Theatre will perform "Here Today, Gone Tomorrow" at Massey Gardens at 2:30 p.m. and 3:30 p.m. followed by an informational meeting at 4 p.m.
"The Robert Morris theatre program is truly student-centered," Locke said. "Students are involved in every part of the production process, performers and backstage alike."
Colonial Theatre will perform the musical Xanadu on Oct. 21-24 at Massey Theater. Auditions will be held on Aug. 31 at 5 p.m. and Sept. 1 at 6 p.m.
Saturday's events will conclude with an outdoor movie event, "Jumanji: the Next Level," at 9 p.m. on The Nicholson Center's front lawn.
Sunday will kick off the final day of orientation weekend with a Fun Run at 9 a.m. on the front lawn. Students are encouraged to wear their high school apparel during the event.
The weekend will wrap up with one of the university's biggest and most anticipated events, BobbyMania, starting at 7 p.m. on the front lawn.
"BobbyMania starts the year off with a bang. There will be free RMU t-shirts, free food, a dunk tank, a DJ, and lots of fun. The event will conclude at 9 p.m. with a fireworks display," Locke said. "It's going to be an awesome event because that's what it is."
As students return to campus, safety is a top priority as COVID-19 variant cases rise in the United States.
"Safety is paramount here at RMU and we are going to constantly keep an eye on the momentum and all the news around the pandemic," Locke said. "Our intention is to create an experience that is both fun but very much safe."
More information about the mask policy can be found here.
Locke is thrilled to provide unique experiences for students as the university recovers from the pandemic.
"We are in the business of bringing people together and saying 'yes.' Last year, we were in the business of saying 'no, don't breathe on each other,'" Locke said. "It is my desire, professionally and personally, to create opportunities for college students to come together, celebrate the best of each other, to make the most of their time here and to make lifelong friendships and memories."
The full list of student orientation events can be found on the campus involvement portal, Revolution.
About the Contributors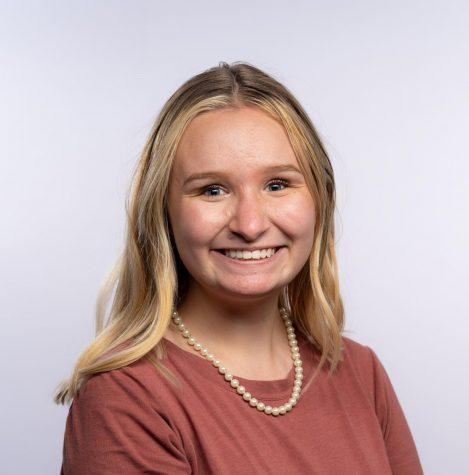 Kaelei Whitlatch, Copy Editor
Kaelei Whitlatch is a Communications and Public Relations major. She is a junior from Scottsdale. Kaelei can be found watching Big Brother or singing in...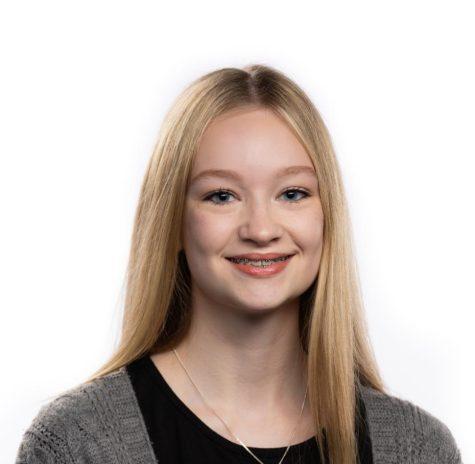 Angelie Bartholomew, Contributor
Angelie Bartholomew is a freshman Nuclear Medicine major from Monessen who is the Dog Mom of Sentry Media.