SNL Season 40: Change
This weekend marked the beginning of the 40th season of "Saturday Night Live." Chris Pratt hosted, while Ariana Grande was the musical guest. Though, the biggest storylines going forward involve the changes for the show.
Unlike a lot of people, I like watching "SNL" more for the cast members rather than watching because somebody specific is hosting. It was announced last week that this season will mark Kenan Thompson's final run as a cast member. Thompson has been on the show since 2003. In my opinion, Thompson should have called it quits after last season with Seth Meyers. That way this could be the season that the current cast could really gel without a leftover from a previous cast.
First off, it was a bit weird hearing Darrell Hammond's voice in the credits rather than Don Pardo's. The new voice will definitely take a few weeks to get used to.
The season premiere was very much based around Chris Pratt. I'm not sure this will work each week. Pratt was very excited to be hosting, and his energy was depicted throughout the entire show. Not all guest hosts have the same mentality.
Honestly, I am a bit skeptical moving forward. Sarah Silverman is set to host this weekend. I don't find her to be funny at all, but maybe I will be surprised. Following her will be former cast member Bill Hader. I loved Hader when he was a regular, but I don't know how well he will do carrying the show. If Stefon makes an appearance on "Weekend Update," however, I will have no complaints.
The cast's regulars seemed a bit uninspired. If Saturday was any indication of what the current season has in store, Aidy Bryant will be the leading lady. This comes as a bit of a surprise considering that Kate McKinnon is still on the show. Taran Killam will still be the focal point among the men.
The most disappointing part of the show was "Weekend Update." I was a bit upset that Cicily Strong was replaced on the desk. Colin Jost, who took over the anchor position after the departure of Seth Meyers last season, was accompanied by a new co-anchor, Michael Che. Che's debut was not what I expected at all. He stumbled and/or laughed during almost every story he read through.
One major bright spot for this season and (hopefully) beyond is the addition of 20-year-old featured cast member, Pete Davidson. Davidson made his SNL debut as a "Weekend Update" correspondent. His segment was easily the funniest part of the entire show.
Season 40 has a lot of potential. Potential is a key word though. If Killam, McKinnon and Jay Pharoah can perform at the top of their game every week, and Davidson emerges as a star, the show will be great.
If not, more changes will be necessary.
About the Contributor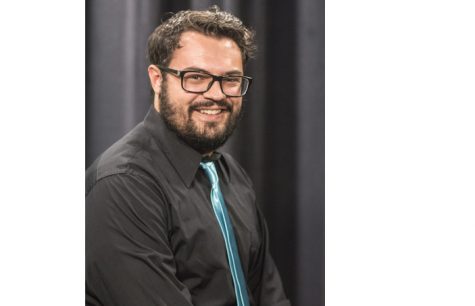 Matt Merlino, Chief Graphic Designer
A senior Media Arts (Graphic Design) major, Matt is the award-winning Chief Graphic Designer for RMU Sentry Media. His design work has won first place...