Trying Primanti's Newest Sandwich
During the Great Depression, Joe Primanti started the sandwich business that has become a Pittsburgh landmark and still bears his family name. Ever since he opened his first store in the Strip District, generations of both Pittsburgh residents and visitors have loved the unique sandwich his business created.
For those not familiar with the signature Primanti's sandwich, it is a two-handed meal on thick slices of fresh Italian bread with layers of grilled meat, french fries, tomato and coleslaw. It is a true experience—better tasted than described.
While most people have a grilled favorite, such as capicola and cheese, pastrami and cheese or, a Pittsburgh classic, jumbo baloney and cheese, that they have on every visit, there is enough variety on the menu to be able to try something new. Occasionally, they will create a limited edition sandwich just to tease the taste bud of their patrons. This is one of those times.
The restaurant's latest creation is the DBL ROAST 'N CHDR. While it contains all the standard elements of their signature food item, there is a unique twists. It is probably best defined by the Primanti Bros. website.
"More than a half-pound of double stacked premium roast beef and shredded cheddar cheese topped with our signature fries, sweet 'n sour slaw, tomato and creamy parmesan horseradish mayo!," according to Primanti's.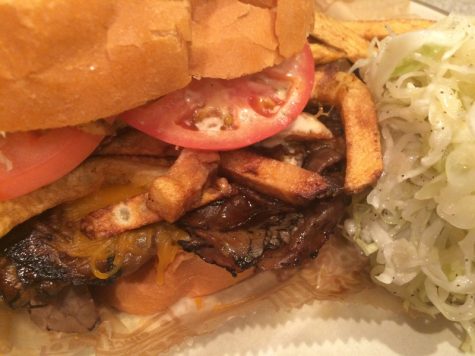 Sounds good to me, and since I am from Pittsburgh, and a typical American, I do need my french fries on occasion, which led me on an adventure to taste the DBL ROAST 'N CHDR. After finishing my lunch, I can confirm that it was a worthwhile trip.
I know that the fans out there may be upset, but I am not big on having coleslaw on my sandwich. With my slaw on the side, it did give me a chance to really experience the mayo they used. I thought it was one of the best parts of the experience with just enough horseradish bite to enhance the overall flavor.
The roast beef was also delicious. For many, more meat may be better; however, I would have been fine with less than a half-pound of beef. I think that having less meat would allow the mayo to add even more to the meal.
If I have a chance to have the DBL ROAST 'N CHDR again, I will definitely ask for more of the creamy mayo. While it might offend some, I did enjoy my slaw on the side, and I'll keep it on the side next time, too.
With Primanti's so close to RMU, it is a great place for an off-campus meal. With unique specials like this one, I know that I'll be paying closer attention in the future to the specials and new additions to their menu.