ZZ Top and Cheap Trick rock out at KeyBank Pavilion
BURGETTSTOWN, PA – Despite being in their late 60s and early 70s, Chicago rockers Cheap Trick joined up with the bearded blues rockers from Houston, Texas; ZZ Top, on September 11 at the KeyBank Pavilion in Burgettstown, Pennsylvania.
Although we were among the youngest attendees at the event, that didn't stop us from enjoying the evening.
The concert was opened by Marquise Knox, a 28-year old blues rocker from St. Louis, Missouri. Knox played some of his hit songs like "Young Man Blues" and "When My Baby Moves." Despite being not as well known as the following acts, Knox held his own on stage, commanding presence with his soulful vocals.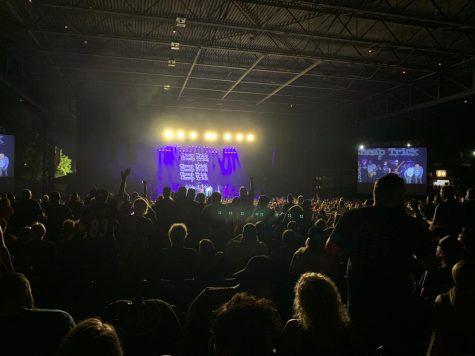 After Knox, the first of the main acts, Cheap Trick, took the stage for the first time. As with most of their concerts, the band opened up with "Hello There" off their 1977 album "In Color." Lead singer and rhythm guitarist Robin Zander had no issues running and dancing around the stage, despite being on the other side of 65.
After "Hello There", the band played song after song, throwing in covers by Fats Domino; "Ain't That a Shame", and The Velvet Underground; "I'm Waiting for the Man".
Cheap Trick ended their set with their best hits, starting off with "I Want You to Want Me." This was the first song that the crowd really stood up and sung along with, creating a raucous atmosphere inside the pavilion. Following "I Want You to Want Me," the band played "Dream Police." Red, white, and blue stage lights cast a glow reminiscent of lights on a cop car. After a cover of The Move's "California Man," Marquise Knox returned on stage to join Cheap Trick for 1978's "Surrender."
After "Surrender," Cheap Trick ended their set list with "Goodnight Now," and the conversion crew quickly shifted the stage for ZZ Top.
On their 50th Anniversary tour, the 'bearded' trio of Dusty Hill, Billy Gibbons, and Frank Beard (ironically the only one without a beard) opened up with their hit song "Got Me Under Pressure;" a band staple since its release on their 1983 album "Eliminator."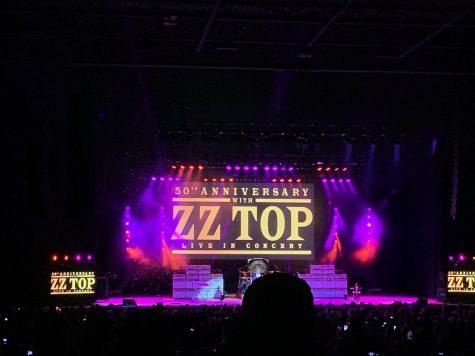 Soon after, they hit the heart of the lineup; playing "Gimme All Your Lovin'," "Pearl Necklace," and "I'm Bad, I'm Nationwide" one after another. "Gimme All Your Lovin'", the music video features the first appearance of the famous red ZZ Top "Eliminator" hot rod and was nominated for the 1984 MTV Video Music Award for Best Direction, played in the background.
The concert seemed to be winding down as the band played two of their most popular songs "Sharp Dressed Man" and "Legs." Despite being 35 years since the release of the "Eliminator" album, front man Billy Gibbons' voice hadn't lost a step, still being able to belt out the gravely southern rock lyrics.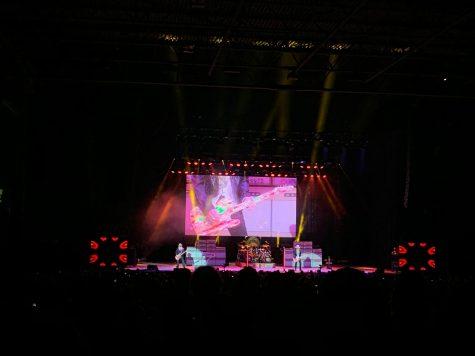 ZZ Top would come out for not one, but two separate encores; the first time, singing
"La Grange" from ZZ Top's third studio album "Tres Hombres" and "Tush." During the second encore, the band followed suit with another rock n'roll legend in Elvis Presley; closing out the concert with a bluesy rock rendition of The King's hit "Jailhouse Rock".
Overall, Marquise Knox, Cheap Trick and ZZ Top put on a great performance for the KeyBank Pavilion. They showed that despite their age (apart from Knox), they haven't lost any of the shine that made them so popular in the 1970s and 80s. Knox was a pleasant surprise, and opening for two bands such as ZZ Top and Cheap Trick could make him more of a household name in the future.
About the Writer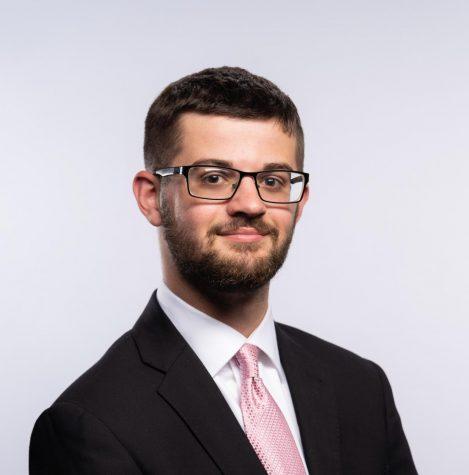 Jonathan Hanna, CSN Editor in Chief
Jonathan Hanna is a senior Sports Communications major from West Henrietta, New York. Jonathan can be found around campus wearing various Buffalo sports...