Idlewild honored as oldest amusement park in Pa
On a cold, rainy Saturday, Oct. 6 morning, a small and historical presentation occurred at Idlewild & Soak Zone located in Ligonier, Pennsylvania.  Drivers who pass by Idlewild on Lincoln Highway aren't able to see much of the park other than parking lots and a few storybook looking buildings.  The place might not look like much from the road, but Idlewild & Soak Zone is actually an amusement park and Pennsylvania's oldest.
Idlewild & Soak Zone, better known as Idlewild Park has been open since 1878, predating Pittsburgh's Kennywood Park by twenty years.  The Pennsylvania Historical & Museum Commission and Idlewild were set to dedicate an official Pennsylvania Historical Marker at the park located right off Lincoln Highway located in front of Idlewild's exit which was the parks original entrance.  Attending the event were a small number of the American Coaster Enthusiasts (ACE) from the Western Pennsylvania region, various park employees, and a few members of the local media.
On hand to talk about the significance of the park and unveil the historical marker were Idlewild General Manager Brandon Leonatti, Public Relations manager Jeff Croushore, Jean Craige Pepper from the Pennsylvania Historical & Museum Commission, and ACE Historian Dave Hahner.
Originally started by Thomas Mellon, Idlewild was originally part of a railroad stop.  Over the years, the park developed a special charm that is unlike any other amusement park.  Idlewild is not only an amusement park with different themed areas; it is a destination where families not only from the Laurel Highlands of Pennsylvania but families from all over visit.  Idlewild Park is aimed to entertain the entire family.  Over the years, Idlewild has been named the number one children's park in the world.  Many generations of families have visited Idlewild over the years and those in attendance shared personal memories of the park
Being one of those in attendance, I too have special members of the park.  Some of these memories include visiting Story Book Forest with my parents, riding through Mister Roger's Neighborhood of Make Believe and riding my very first roller coaster, the Rollo Coaster.
For a park that has been recognized nationally, Idlewild will continue to entertain families for years to come.
About the Writer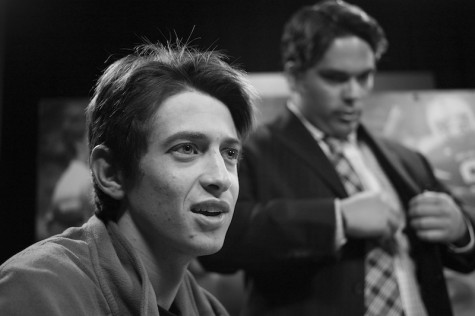 Mike Funyak, Staff Reporter
A Senior Business major with a concentration in Management at Robert Morris University, Mike is a Staff Writer and Blogger for "The Sentry."

In...