One-on-one with "Perks" director Stephen Chbosky
I completed the interview with writer/director of "Perks of Being a Wallflower," Stephen Chbosky on Sept. 28 at the Fairmont Hotel in Pittsburgh, Pa.
As I was waiting for him to finish up a previous interview (about 50 feet away from me), the atmosphere of the hotel began to leak out. Its inhabitants seemed to come from a place of swanky or high-class ideals. I can't count the number of shopping bags from expensive, designer stores that passed me by. It's like all of the best-dressed people of Pittsburgh decided to hang out together at the Fairmont that day.
Weirdly enough, a white dog trotted down the hotel's hard floors. The dog let no one pet his spotless fur, but he did waddle over to me.
The bar was located to my right and was crowded with these swanky individuals sipping on glasses of martinis or wine and generally laughing with each other.
The actual interview took place in big, upright and brown chairs that cradled blue, plush pillows. There was a tiny barrel of a table in between us with a menu reading "Classic Cocktails." Stephen drank a Voss and held a used lemon in his other hand.
This location had beautiful, long windows that bordered the brown chairs that faced each other.
What really struck me was the amount of people walking by on the streets. I kept thinking about how he described his quote "we are infinite" and about how our lives ARE infinite. With just a matter of choices, how many different ways our lives can go. How about those people who passed us by. I'm sitting there, interviewing this interesting author, and they're rushing off to some place. Maybe it's a meeting, a long-awaited dinner with a spouse- perhaps even to break up with their psycho girlfriend.
All of these people on the street walk right by as I nervously complete the interview. They don't realize that – and I don't realize what special situation they may be in themselves.
And yet all of these choices affect our lives and who we will amount to be. The words "you are infinite" have been ringing in my ears ever since I had this conversation with Stephen. He found a way to inspire generations, a city and me.
About the Writer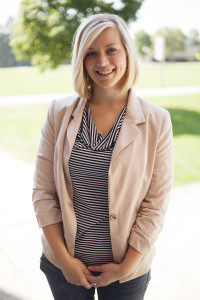 Leah Moose, Staff Member
A junior journalism major at Robert Morris University, Leah is a staff writer and photographer for the student-run newspaper, "The Sentry."

Additionally,...