Pumpkin Spice Latte: Starbucks vs. Sheetz
It is the week of Halloween, and there is no better way to enrich your autumn morning than by having one of the best coffee drinks you can ever taste this season: the Pumpkin Spice Latte.

The 16 oz. Pumpkin Spice Latte from Sheetz is $3.99 plus tax. Generally, it looks like your typical coffee with creamer. You would probably never guess that is a Pumpkin Spice just because the look does not really stand out. It has an appetizing aroma and tastes pretty good. You can smell the coffee, creamer and the scent of Pumpkin Spice, and it tastes the way it smells–so there are no surprises. It is definitely something that is worth trying and recommending to a friend. If you decide that you would like to save a little bit of money, then going to Sheetz is not a bad idea.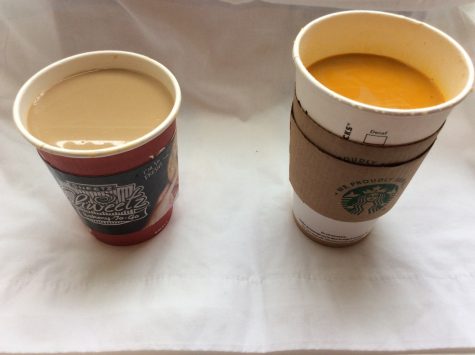 In the neighborhood Starbucks, the PSL costs $5.25 plus tax for a 16 oz. beverage. The latte itself is actually orange, which really brings out the pumpkin theme. If you're the type of person who judges the taste of something by its appearance, then this may seem unappetizing. It does not really smell much like pumpkin or coffee, which may leave a coffee drinker in suspense until they actually taste it. This is definitely one of those drinks that you can't judge based off the smell alone. This latte is also far sweeter that the one from Sheetz, and the taste of coffee is not as strong, which is great for people who are not big fans of the taste of coffee.
Take the time out of this week to try both of them. Starbucks is no stranger to churning out all those PSL orders, and now, apparently, neither is Sheetz. Sheetz is known for its 24/7 convenience, so any time you have a midnight craving for a Pumpkin Spice Latte while Starbucks is closed, feel free to go to Sheetz and give it a try. The two basically don't taste that much different from each other. The major difference is the price, but quality also takes into account as well. The PSL from Sheetz tasted better because it had more of an authentic taste. I can see myself heading back there some time this week for another PSL. The one from Starbucks had a weird smell and the orange color really threw me off. I honestly think Starbucks was just overdoing it with the whole pumpkin theme. I wasn't very fond of the taste either, and I know for a fact that I will never order a PSL from Starbucks ever again. It is not worth the extra couple of bucks.