The scariest ScareHouse around
Located on Locust Street in Etna, Pa, ScareHouse has been named "The Scariest Haunted House in America" by ABC News. With this bold statement in mind, I went into ScareHouse with high expectations, and they still managed to blow me away.
As you get off of the shuttle that comes from the Pittsburgh Zoo parking lot, the anticipation rises as you approach the historic building that houses the thrill of a lifetime. This building has been home to many things before it's current residents moved in. The building was first constructed in 1915 as the First National Bank of Etna. After the bank's closure, it became home to Elks Lodge No. 932 until 2006.
Now, the sight of the building is enough to entice chills down your spine with the up-lighting creating mysterious shadows. As I stood in line at the back of the building, a cross-dressing prom attendee and a rather ravenous stuffed bunny entertained myself and the other guests. At this point, the suspense was killing me. I couldn't wait to get into the door and have my ticket scanned.
Once inside, I was greeted with a twenties style stage, minus the flapper girl. Looking around the room made me shiver. Dolls in glass cases were staring blankly at, seemingly, only me. The clincher was a replica Annabelle doll with her iconic, "Warning: Positively Do Not Open," sign on the front. For those of you who have never watched "The Conjuring," this doll is possessed by a very powerful demon.
Walking through the first curtain of ScareHouse was almost surreal–fog was everywhere, and I was already jittery with excitement. The walk-through experience was astounding. For a haunted house, this held more than just the typical jump, scare and move on. The very first room was set up with a medium sitting at a crystal ball. He told our group's fortune which was, one of us would be selected as sacrifice. Of course it ended up being me. The actors were rather interactive and would talk to you, but just them staring into your soul as you passed was enough to put anyone on edge.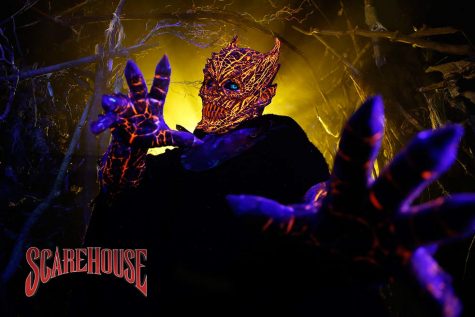 Out of the many tricky rooms and surprising scares, three things stood out to me most. Having a fear of dolls and human-like figures made the doll room one of the most terrifying rooms in the house. A close second was the round room. You step in and you are faced with a room full of identical doors which the demon guide instructed you through. We revisited this room to be faced with a six and a half foot tall clown that followed us through the next two rooms. The feeling of being disoriented and dizzy made this room one to remember. Last on my top three list really isn't a room, but more of a mind trick. There were periods of complete darkness. Not knowing what is in the dark, or what is waiting on the other end, is rather unnerving. The anticipation of something coming out to scare you leaves you on edge.
ScareHouse is an amazing haunt to visit if you are looking for something that is totally out of the ordinary. It is a thrill like no other. For someone who isn't easily disturbed, ScareHouse did just that. It disturbed your mind, and twisted your sense of reality. In my book, ScareHouse is the scariest haunted house I have ever seen, and totally worth the money.