This Rising Star will continue to rise
RMU President Dr. Christopher B. Howard, D.Phil. uses the annual President's Council Dinner to honor a distinguished alumni with the Heritage Award and a current student with the Rising Star Award. At the Fairmont Hotel in Pittsburgh on Oct. 6, 2016, this year's Rising Star Award went to Merritt Donoghue. Donoghue, a senior set to graduate next May, already has many accomplishments and shows great potential in her field of study, which are the primary qualities of the award winner.
For Donoghue, it's an award that came out of the blue when a seemingly random RMU letter was delivered by mail this past July. She almost didn't open it because it appeared to be one of those arbitrary college mailings. When she finally opened it, she received a tremendous surprise.
"It was a huge honor to me because I was not expecting it at all," Donoghue said. "I liked that they let me know personally, first, with a letter. I think that's cool instead of just an email saying, 'hey you got this thing.' It made it feel even more important."
Donoghue is still rather amazed that she was selected for this award. It still brings on strong feelings especially as she thinks of the many other RMU students who are doing great things every day.
"I am so humbled that [I won the award] out of all the students at RMU," Donoghue said. "I think it's that you do a lot of things, but you don't realize that other people are noticing. It was a huge honor."
She was able to share the ceremony with her sister and her mother as her guests. During the award ceremony, Donoghue gave a speech to the assembled donors, students and families. It was a special moment because she had a chance to show her family that she recognized their importance in her life.
"My mother is a wonderful writer," Donoghue said. "This is the first time I didn't show her what I was writing; because I wanted to thank her at the end. She has been a huge role model in my life, and I didn't want to spoil that for her—I wanted it to be a surprise. When I was giving my remarks and thanked [my mother and sister] at the end, I couldn't even look at them because my mom was just crying the whole time."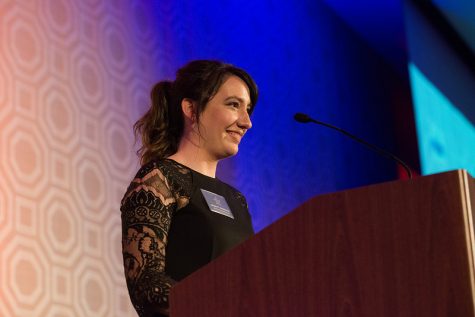 While it was a challenge for Donoghue to give a speech in front of such a large audience, it was an even bigger challenge to have to write a speech where she had to focus on herself. In one way, it made her feel pride in her accomplishments, but in another sense, she found the process had a deeper meaning.
"I feel like a lot of times in our life we go through these phases and we don't know how to word things, so we just let them go," Donoghue said. "I think it's important to be able to communicate our past selves because that's how we grow into who we are."
Although it has been a little over a month since she received the Rising Star Award, the actual award still hasn't made it out of Donoghue's dorm room and back to her home in Oakdale, PA. It might be a while before it gets there because she intends to honor another part of her family with its presence–to thank them for what they've done for her.
"I think I'm going to keep it at my grandparent's house," Donoghue said. "I am so close to them; my house is right next to them. Part of the award is definitely theirs because they helped me with all my accomplishments."