Women of Sentry: Ally Yovetich
MOON TOWNSHIP — When entering college, a brand new atmosphere with all unknown faces and circumstances can be difficult to get accustomed to. But for freshman Ally Yovetich, making her mark on Sentry Media has been a great success.
It is only her second semester, and the Digital Cinema and Television major has taken on a couple of roles in RMU-TV, including a large leadership role being Floor Director for several shows.
The floor director position is crucial in productions. It connects those working in the master control room with those working the cameras and coordinates set changes and cameras on the floor.
In addition to being floor director, Ally also operates cameras for other television shows and she is keen when setting up the studio.
It is clear to see that there are a lot more men than there are women in Sentry, and while that can be intimidating, Yovetich persevered to make herself known.
"Going into it, that was definitely a scary thing because I didn't know if I was going to fit in as easily as the guys would," Yovetich said. "I've found my way, and I'm able to, not boss the guys around, but boss the guys around, and I feel like I have a place now."
When it comes to obstacles faced in day-to-day life being a woman in Sentry, having her voice heard is the only thing she can really think about as something that stands in her way.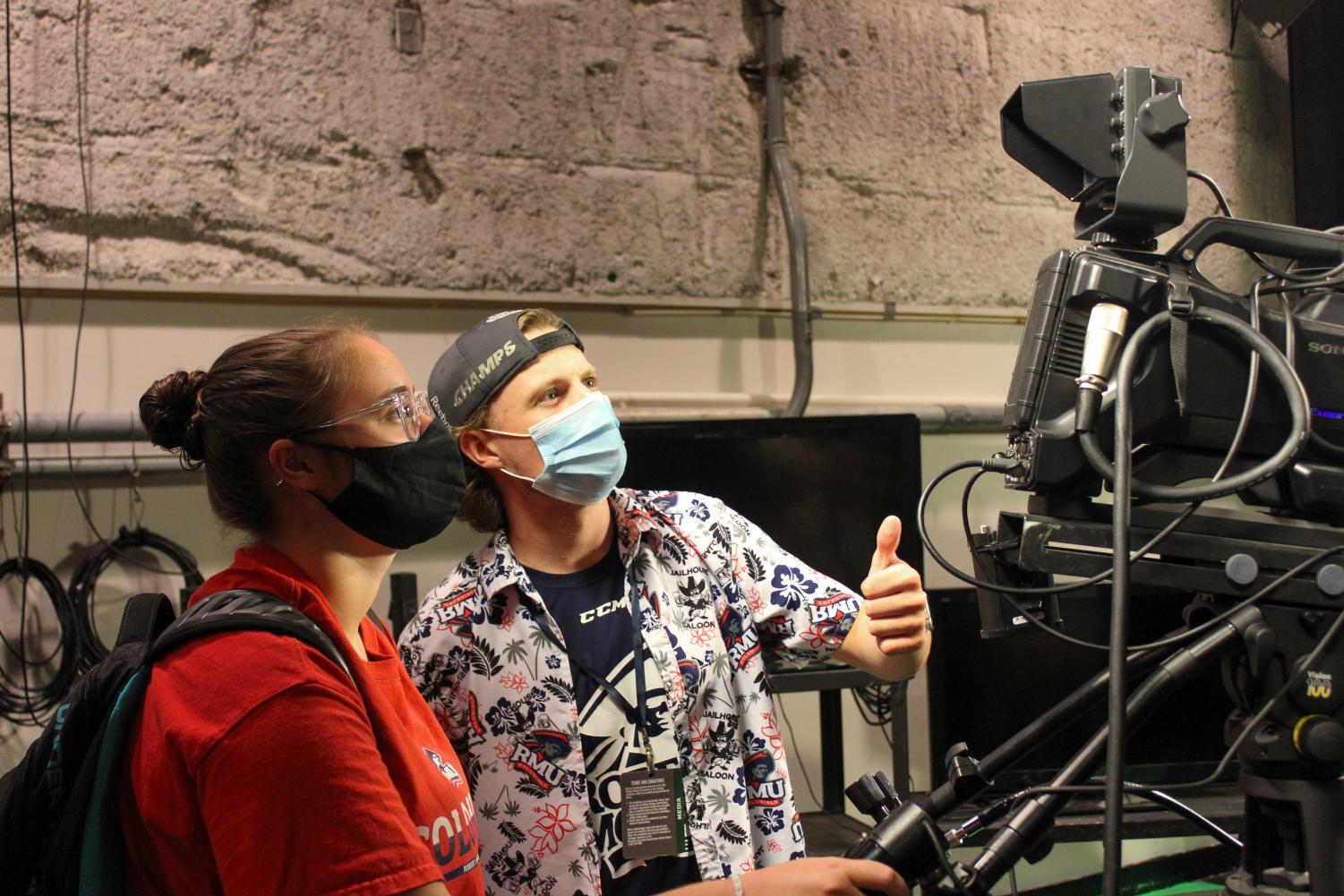 "Sometimes, because there are so many guys, they can just take over, and I'm not heard as much as I would like to be," Yovetich said. "For the most part, they understand us and make sure they understand us, although sometimes they're just being guys and not listening," Yovetich said, chuckling.
When it comes to women who inspire Ally, she quickly mentions her mom and all of her amazingness.
"She is a preschool owner, and she created her own preschool," she says. "Her being able to create her own business shows me that I'm able to do the same thing."
Yovetich also touches upon her mother's strength throughout her life and her perseverance throughout several difficulties she has faced, including battling breast cancer.
"She really powered through that [and] beat it," Yovetich said. "It showed me how powerful she is and just how powerful I can be too."
Yovetich has an open mind for her future, hoping to end up somewhere in the industry that she loves.
"[I want to] get somewhere that makes me happy, so that I'm doing something in the film industry that I enjoy," she said. "Wherever I go, as long as I'm happy doing it and I enjoy it."
When it comes to her field of study, typically, men rule the area of film. Yovetich immediately mentioned the growing number of women seen in the business.
"I feel like there are more and more women entering the film industry, so it's not as hard," Yovetich said. "It's still definitely male-dominated, but there are becoming more and more females entering the industry, so it's nice to have people to look up to that are also female to show me that I can make it."