'Round about Pittsburgh: The Night of the Living Dead
In 1968, Carneige Mellon University graduate George Romero, along with two friends John Russo and Russell Streiner, put Pittsburgh on the map as the setting for a soon to be cult classic film Night of the Living Dead.
"Up through 1967, zombies were controlled until Romero came along.  It was the first time zombies became ghouls, such as eating people and rising from the dead," said RMU Academic Media Center faculty member Ray Zaparoni.
It was filmed in the Pittsburgh suburb of Evans City, Butler County.  Night of the Living Dead, an independent film, received much acclaim and was a box office success around the country and world.  Since its release, the film has domestically grossed around $12 million and $30 million internationally.
Although the film had a small production budget, Romero, Russo and Streiner used all sorts of everyday items for the use of props and special effects.  The small budget also forced the use of black and white film.  However, the use of black and white film is one of the unique traits of the film.  Although a colorized version was released, numerous people still prefer the original black and white version.
With the success of Night of the Living Dead, George Romero created five other horror films; Dawn of the Dead, Land of the Dead, Diary of the Dead, and Survival of the Dead.
Dawn of the Dead, released in 1978, is another cult classic that was filmed in the suburbs of the Pittsburgh.  The film is noteworthy of being filmed at Monroeville Mall and of the scenes that portray the characters fighting off the zombies inside the mall.
Zaparoni explained, "People in Pittsburgh take the films as their own, people have an attachment to it such as a football team."
Zaparoni, who recently went to a 45th Anniversary Reunion for Night of the Living Dead, explained many individuals who were part of the film made appearances.  He said, "You could just see in their faces they loved it because it was their movie."
He went on to explain the impact George Romero had on the horror and zombie films is still felt today.  However, Zaparoni  explained co-writers/producers John Russo and Russell Streiner along with actor Bill Hinzman had an impact on the films' creativity and outcome as well.  He stressed it is important to credit them because they had an important part in creating the film into the classic many people know today.
About the Contributor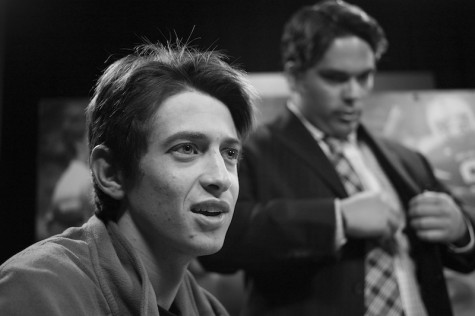 Mike Funyak, Staff Reporter
A Senior Business major with a concentration in Management at Robert Morris University, Mike is a Staff Writer and Blogger for "The Sentry."

In...