Creepy Conference prepares RMU for Halloween with haunting presentations
For the ninth year in a row, the English Department along with Sigma Tau Delta have presented a night of epic horror to RMU with the Creepy Conference. Taking place on Oct. 26 from 7-9 p.m., the conference lured in students, faculty, staff and members of the community to the Wheatley Center for a night filled with haunting presentations.
Sylvia Pamboukian, who has been the head of the event for the past five years, recalled the first time the Creepy Conference presented its tales to RMU.
"(T)he first one (Creepy Conference) there were three faculty presenters, we didn't have students presenting that year, and it was myself, it was Ed Karshner, and A.J. Grant, and it came about just as sort of (a) Halloween thing because we all realize we were working on gothic topics," said Pamboukian.
Although the first Creepy Conference did not have any student presenters, this recent conference had six student presenters and one faculty member presenter.
"I love talking in front of people," said Micki Brant, junior and presenter. "I'm talking about 'Phantom Limb,' which is when amputees, after the limb is removed, often times they still feel pain in the limb that's not there. And actually it was inspired by 'Grey's Anatomy' cause there was a character on the show who had this."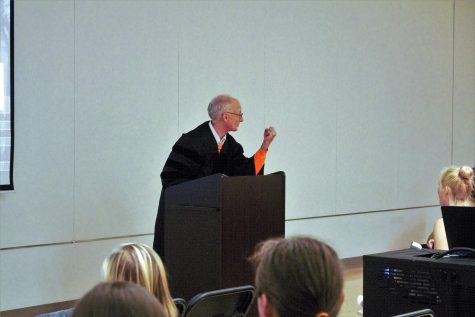 Another student presenter at the event was Mary Cooper, junior and student at Indiana University of Pennsylvania. This is her first year presenting at the student showcase and she titled her topic "What are you so afraid of?"
"It's (her topic) creative nonfiction… Most of it's true, like from my perspective you can only be so objective. I say it's not any just one even, like some of them did happen like exactly how they went down. It's all true, just not necessarily in that order," said Cooper.
Cooper discovered the Creepy Conference from her academic advisor in Sigma Tau Delta. Stating how her advisor wants the students in the fraternity to participant in the conference, Cooper was the only one from her chapter to submit a topic for this particular conference and later found out she was accepted.
At the end of the event, audience members had the opportunity to vote for their favorite topic presented at the conference. The presenter with the most votes wins a prize from the English department. RMU students also had the chance to earn SET credit at the end of the night by swiping in their freedom card.
"I really like the pedophilia, the fear of dolls," said attendee Nicole Hitt over her favorite part of the conference was. "That was interesting, that's one of my fears."
Hitt also said how she enjoyed watching the reactions of people and seeing how they responded to some of their fears.

To look at what topics were presented at the 2016 Creepy Conference and past conferences, visit the Creepy Conference website HERE.
About the Writer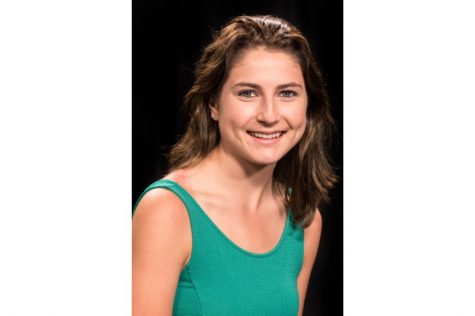 Raistlyn Lehman, Contributor
Entering RMU as a freshman, Rai is from Garrett, Indiana. She is a communication major with a concentration in journalism.