Pittsburgh I.C.E.; building the hockey community
MOON TOWNSHIP — Over the past few decades, the hockey scene has exploded in the city of Pittsburgh. Every hockey level has seen growth in western Pennsylvania, especially with youth players, thanks to countless programs that have built the hockey community.
Every day throughout the winter, rinks around the area are bustling with hockey players of all ages. On Neville Island, the Robert Morris men's and women's hockey programs have gained popularity throughout the years, putting together championship-contending teams season after season. While most attention turns towards them, another organization also calls the Robert Morris University Island Sports Center home.
For over 20 years, Pittsburgh I.C.E., otherwise known as Inclusion Creates Equality, provides kids from all socioeconomic backgrounds the opportunity to play the game of hockey.
"The program is for underprivileged youth, and the idea is to introduce kids to hockey who may not have the opportunity to play the game," Allan Walsh, director of hockey operations and head of coaching development, said.
It is no secret that the sport of hockey can be a financial burden to families. Thus, Pittsburgh I.C.E. offers children free equipment, ice time, and transportation if necessary to learn the game of hockey.
"They get everything. Head to toe, including ice time," Walsh said. "We want to make sure they have everything they need, plus they get the coaching. They are supported 100-percent."
Pittsburgh I.C.E. has been a staple in the Pittsburgh hockey community, serving underprivileged hockey players' needs. They have also been fortunate to partner with several other organizations to help carry out their vision, including the Pittsburgh Penguins Foundation.
While the Pittsburgh Penguins Foundation covers many of the program's financial needs, they have also granted the children opportunities to meet Penguins players and practice at the UPMC Lemieux Complex.
Middle School and Special Programs Coordinator Richard Payne, who also serves as a developmental coach for Pittsburgh I.C.E., is grateful for the contributions the Pittsburgh Penguins Foundation has made to the program and for allowing the players to meet some of the professional athletes.
"I remember being out at the Lemieux complex, and we had some players that had come out there and spend some time with the kids, and they loved it," Richard said. "The foundation has been so supportive of us. It's wonderful to know that there is a program that believes in what we do and willing to get behind us and the players as well."
Growing up on Larimer Avenue, Richard did not have the opportunity to play ice hockey until around age 14. Instead, he took to the pavement to play street hockey.
"When I was younger, I played hockey, but a lot of street hockey. There was nobody on Larimer Avenue playing but me," Richard said.
Richard has been an integral part of the program over the past five years as a board member and as a coach. He also provides his children the opportunity to go through the program.
His oldest son started in the program over six years ago, but his ten-year-old son Justus is still an active member of the program.
"It's great knowing they take to something I enjoy so much," Richard said. "It's really satisfying knowing that my kids like playing hockey."
Along with being around the rink on Saturday mornings throughout the winter, Richard has also been a critical member growing the program not only in Pittsburgh, but partnering with other learn-to-play groups across the country. As part of the initiative to develop hockey for underprivileged youth, Pittsburgh I.C.E. has granted players the opportunity to travel to different cities to play the game.
"Our last trip to Boston, we took four kids. Only one of them had been on a plane before, so we made a big deal out of it, and they were so excited at the airports in Pittsburgh and Boston," Richard said. "For them, it was a wonderful experience to hang out with them. It was a great opportunity to bond with them in a different way because I'm a mentor to a lot of them, but it was great to be able to hang out."
While Richard has been grateful to play the game, his son Justus has also enjoyed the experience of playing hockey and learning the skills that come with it.
"I love skating and doing everything else," Justus said. "I like skating backward because it's hard for me to do, so I learn more."
Not only does Richard take pride in watching his son grow through the program, but he is also proud of the work other players accomplish within the organization.
"The kids who have been here for a few years have stuck this out on their own accord. They are not forced to come back," Richard said.
One particular member Payne has been pleased with is Keilyn Walden due to his commitment to getting better and his love for the game.
"Keilyn is an athlete, and he plays a lot of sports, but his mother says this is the one thing that she doesn't have to wake him up for that he's up and ready to come," Richard said.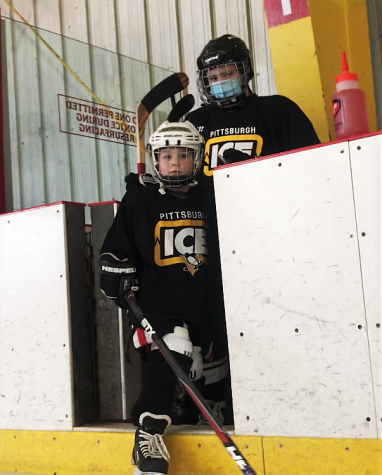 Although Walden admits that hockey is a much different sport than what he is used to, the 13-year-old is very appreciative to play such an enjoyable sport.
"It's very fun," Walden said. "I know that most people can't afford to get the sticks and equipment because it's very expensive, so the fact that we are able to be here, I'm very grateful."
As the kids on the ice find it a fantastic experience, Allan Walsh emphasizes the importance of learning the basic hockey skills and highlights the program's socialization aspect.
"A big part of the game is just the social aspect of it. They're making new friends, or they have friends that are here," Walsh said. "The other big part of it is they get to experience a team atmosphere. We scrimmage, so they get an atmosphere where they are learning the game and the social aspect of the game as well."
15-year-old Rylee Farina also understands the idea of learning the skills that are necessary for hockey, however, she does acknowledge the significance of communicating and making friends with others on the ice.
"I think it's a great experience. It could help you on a team in general," Farina said. "It's good to socialize, be out there, and have fun."
Despite the great turnout the program produces every weekend, Walsh stresses the idea of supporting the program not only financially but joining the organization at the rink.
"We are always looking for support. We are always looking for volunteers to help on the ice and to just come in to help kids get ready. That alone is huge," Walsh said.
Since the beginning of the program in 2000, when it was initially called "Hockey in the Hood," Pittsburgh I.C.E. has grown into an organization that prides itself on providing opportunities for over 1,200 kids to play the game of hockey.
For more information regarding the program, visit their website at https://www.pittsburghice.org/.