Man allegedly fleeing RMU Police strikes officer with truck
Person strikes officer with vehicle, attempts to elude police
MOON TOWNSHIP – A man that was allegedly attempting to elude police Friday morning at Robert Morris University struck a police officer with his vehicle.
According to the criminal complaint obtained by RMU Sentry Media, 27-year-old Justin M. Currie of Coraopolis allegedly struck a Robert Morris University Police officer with the side mirror of his truck while attempting to elude police.
Officers responded to the gazebo parking lot after receiving a call from a concerned female reporting a suspicious person inside a vehicle, according to court documents. The criminal complaint states that the suspicious person was sitting inside of a silver or tan truck, possibly looking at students walking near the Nicholson Center.
RELATED STORY: Police: One person in custody at Robert Morris University
Officers from the Robert Morris University Police Department and the Moon Township Police Department responded to the call Friday morning at approximately 11:30 a.m.
When officers arrived on scene, they say a vehicle matching the description was parked in a handicap space with the vehicle running. Officers approached the tan Chevrolet truck occupied by Currie.
According to the criminal complaint, when officers requested identification from Currie, he responded that he did not have any.
Police say that when asked his name, Currie said his name was Jacob M. Smith and provided a false address in Coraopolis.
When officers were unable to find a match for the information Currie provided, they approached the vehicle again. According to the criminal complaint, an RMU Police officer asked for Currie to verify his date of birth again.
The officer then asked Currie to turn off the ignition to the truck after he smelled the odor of burnt marijuana, according to court documents.
Authorities say this is when Currie put the vehicle in reverse and pulled out of the handicap parking spot. According to court records, the passenger side mirror of the truck struck an RMU Police officer in the arm.
The officer then drew his gun and ordered Currie to stop.
Robert Morris University Spokesperson Jonathan Potts said in a statement to RMU Sentry Media that the officer struck by the vehicle was not harmed.
"The officer was not injured and did not require medical attention," said Potts.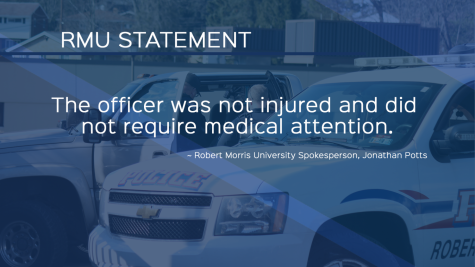 Police say that Currie continued to drive south on Massey Way towards Campus Drive. Police say they then lost visual of Currie.
Authorities were then able to locate Currie and his tan Chevrolet truck at the intersection of Campus Drive and Colonial Way, near the entrance of campus on University Boulevard.
After officers ordered him to stop, Currie put the truck in park, according to police. As officers were exiting their patrol vehicle Currie proceeded to drive around officers and back onto Campus Drive, traveling towards Massey Way.
According to the criminal complaint, Currie did not stop while being pursued by officers until he entered the lower John Jay parking lot.
Officials say in the criminal complaint that Currie exited the vehicle in the direction of an officer without direction, with his hands in the air. Police then took Currie into custody.
Court documents say that Currie is not a student at Robert Morris University and claims that he was "waiting for a friend."
Police say that they found a large sum of cash in Currie's possession. Investigators say in court documents that he stated the money was for rent.
Authorities searched the vehicle without finding any marijuana.
Court dockets say that Currie was taken to Allegheny County Jail, where he still resides after failing to post $100,000 bail.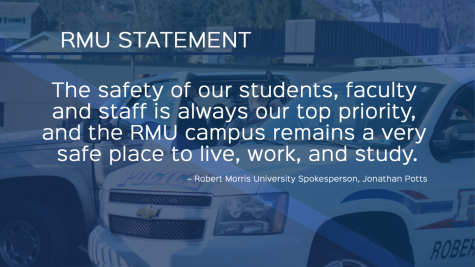 This incident comes just weeks after a student was arrested on campus for allegedly harassing and stalking RMU President Dr. Chris Howard. University spokesperson Jonathan Potts says the two incidents are unrelated and the RMU campus is a safe place.
"Those two incidents were unrelated to one another," said Potts. "What they demonstrated, however, is that our police department is able to respond to emergencies quickly and effectively. The safety of our students, faculty and staff is always our top priority, and the RMU campus remains a very safe place to live, work, and study."
Currie's next scheduled court appearance is set for Feb. 26.