RMU students volunteer for No School STEM Day
PITTSBURGH – While most Robert Morris University students were taking an extra day off, a small group of others spent their free Monday in a local library. But rather than studying, they were teaching.
On Jan. 20, the manager of SEMS (Secondary Education of Mathematics and Science) Outreach, Sarah Moore, teamed up with the Western Allegheny Community Library to create a day that would allow elementary school students to use their day off to learn about science and mathematics. The final product was the first "No School STEM Day".
"There are several days throughout the year that kids have off of school, based off of teacher workdays or federal holidays," said Moore. "Those days, the library has an influx of children that come there and there's not a whole lot of programming offered. In STEM Outreach we try to fill the needs of the community so we decided to create some programming centered around SEMS and SEMS fields and it's been really interesting what we have come up with as a team, between the library staff and ourselves."
The goal of the day was to take advantage of the student's extra spare time and the increase of student attendance in the library, inspire and share knowledge on STEM related subjects.
According to their mission statement, The Western Allegheny Community Library focuses on "inspire, engage and educate the community through high quality, fun, creative and informative programming and services."
The event was directed by four Robert Morris University students, all with majors focused on an area in the STEM field.
Students Matthew Kramer, Megan Cannon, Nikolette Zanolli and Robert Charles all lead lessons throughout the day.
Moore and members of the library decided that each No School STEM Day should have lessons that focus on a specific area of science. This event was given the theme of chemistry.
"Chemistry makes them think 'how does something work' or 'why does this work?'" said Kramer, a pre-med student who is also working at a minor in Chemistry.
The event attendees were able to participate in various hands-on activities including one titled "elephant toothpaste".
"We did an elephant toothpaste experiment where you add a couple things into a cup and it shoots up and it's this big foamy thing and their eyes got big and their mouths got big and they were really excited about it," said Nikolette Zanolli, a sophomore biology major.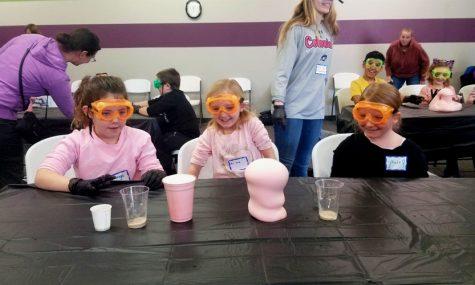 Students were also able to learn more about the scientific process by forming hypotheses on how various solutions, provided by RMU's students, would affect a penny.
"We did a penny experiment where you clean pennies and they had to make observations and they saw bubbles which as you learn later on in the science field, it means something," said Zanolli.
As the young scientists worked, they made observations to be discussed at the end of the experiment so that they could look back and modify their original statements.
"We gave them coloring pages to try to figure out the improvements that were made in the pennies so they can draw diagrams and the older students were asked to make descriptions of these and see if their hypotheses were right," said Kramer. "It was interesting to see the kids, a lot of them were on the right track. A lot of them were between 3 and 10-years-old."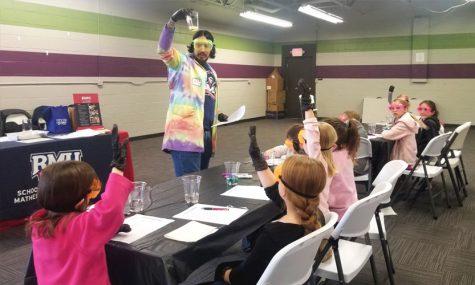 The children were not the only people to leave the library with a lesson, though.
"You learn from them, just like they learn from you," said Zanolli.
Responses from the temporary teachers were overall positive, with each RMU student valuing the day for a different reason.
"It was short but it was good, and I think it was a really great experience because I never really had things like that at that age so I thought it was really cool for them and they were really engaged so it was fun," said sophomore biology major Megan Cannon.
Cannon currently has hopes of working in the pediatric field, making the No School STEM Day an ideal opportunity for her.
"I enjoy seeing them grow, learn and become better people through my experience with them," said Canon.
Kramer, who is a father of five, believes that science and education through doing are important influences for all kids.
"I brought two of my own kids there, Cyrus who is nine and Logan who is three and they really enjoyed the program we ran that day," said Kramer. "Getting them out of the house to actually engage with them and them feeling like they're doing science and doing something. This could be an influence that could create something different in their future."
The students, Moore and the Western Allegheny Library are working towards similar days for the future. These next events will feature new experiments related to different areas of science.
"I think we will kind of focus on a lot of different regions of STEM so physics and biology too and just kind of teach the youth a little bit more about science and what it has to offer," said Cannon.