Robert Morris University officials advise students to celebrate holiday safely after large number of cases last semester
MOON TOWNSHIP — Two years ago, St. Patrick's Day celebrations would consist of vibrant green parades and buzzing parties. One year ago, the nation spent the holiday indoors, just reeling from the initial blow that COVID-19 put on our way of life.
This year, things are different. While COVID-19 is still a looming threat, the release of three vaccines has caused some comfort which could potentially lead to hopes of parties. Officials at Robert Morris University are advising students not to get too comfortable and keep social distancing rules on Wednesday.
"We are so close to being on the underside of this pandemic," said Jonathan Potts, RMU's vice president of of public relations and marketing. "The vaccination rates are up, cases across the country are declining but there is still a need to be vigilant."
On March 20, students received an email from RMU's Office of Student Life reminding them of the rise in COVID-19 cases on campus that took place in the earlier weeks of November 2020.
The rise in positive COVID-19 cases and exposures coincides with Halloween, the last "party" holiday that students were able to celebrate on campus. According to RMU COVID-19's Dashboard, there have been a total of 379 positive COVID-19 cases since August 21.
Potts says that roughly two-thirds of the university's total COVID-19 cases came during those early November weeks.
"There were some large social gatherings-parties-around Halloween," said Potts. "In the two weeks from Nov. 1 to Nov. 15 we had 286 new student reports of COVID-19."
The recent email from Student Life encouraged students to avoid social gatherings, avoid parties and to meet in small social groups if they are to meet. The email also reminded students to take the simple precautions such as wearing a mask, washing hands and being aware of your surroundings.
"The spread of the virus continues and Pittsburgh has now seen cases of the new variants. It is important that all individuals continue to maintain the good practices that we have been doing so we can finish the spring semester as planned," read the email.
RELATED STORY: To see what Pittsburgh is doing to prevent the spread of COVID-19 on St. Patrick's Day click, here.
The Office of Student Life also emphasized one crucial point saying, "We don't want to be that school and repeat history."
Potts went on to say that there were no extra plans regarding the enforce COVID-19 of regulations, but encourages students to take on that responsibility.
"We certainly will do everything we can to be vigilant and enforce the rules, but we have to rely on students to do the right thing," said Potts.
Potts also encourages students who make the decision to celebrate at bars or restaurants to do so at establishments that are following county guidelines.
"We can't be with students 24-7 and you wouldn't want us to be," said Potts.
The requests of safety do not just apply to students. Faculty and staff are also asked to meet the same expectations.
"We ask them [faculty and staff] to do the same thing," said Potts.
With the light at the end of the tunnel gradually becoming more visible with each passing day, Potts applauds students for following these guidelines so far and appreciates that they are doing something they never expected to do.
"I understand that we've asked students to do something that none of us [faculty and staff] had to do when were in college, so I never want to underestimate how difficult it is and you've done great so far."
If you are eligible for a COVID-19 vaccine and would like to learn more about the process, click here.
About the Writer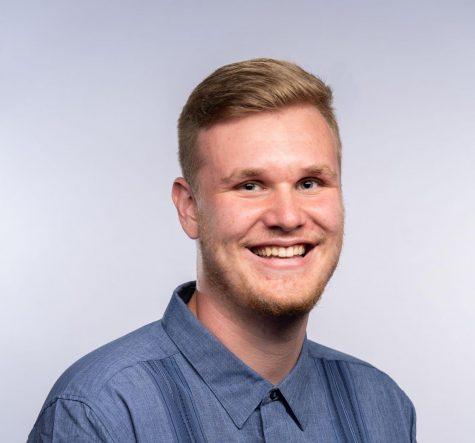 John Blinn, Head Arts & Entertainment Editor
John Blinn is a senior Communications major from Freedom. John can be found most of the time listening to the Foo Fighters. John is taking on two new roles...