Student Government Association Meeting Minutes: 9/10/12
Monday's Student Government Association meeting was called to order at 5:03 p.m. by SGA President Alan Buehler, who also spoke on his meeting with the board of trustees Student Life Committee, set for Sept. 21 and student organization officer training to be held on Sept. 12 and 13.
Vice President Carly Maloney informed everyone about the dinner meeting with President Gregory Del'Omo on the 24th of this month and both the Student IT Advisory Committee and Academic Integrity Council.
Secretary Alex Guckes reminded everyone that any items wished to be included on the SGA agenda should be sent to [email protected] .
The final officer report came from Treasurer Ethan Bryan, in which he detailed the SGA 2012 fall budget projection:
$9,000 for SGA expenses/purchases
$8,000 for fall 2012 Professional Development Grant requests
$28,000 for fall 2012 organizational budget requests

In addition to the general business discussed, two new clubs proposed and will be approved or disapproved at the Monday, Oct. 8 meeting.
The first is the RMU Ad Club, a student run advertising agency in the form of a club with the purpose of providing free advertisement for student organizations and for outside businesses. This allows students go get real world experience, while providing a service to local clients. If interested in joining, make sure to contact Andrew Blazek.
The second is Yokoso Nakama, an Asian culture club, designed to educate students in the oriental traditions, foods, clothing and lifestyles common throughout the eastern world. Any who are interested should contact Jayson Phouthaphong.
Following these proposals, current SGA organizations announced their items of business to the board. Items ranged from recruitment to announcements of scheduled events. Keep an eye out for posters and flyers in Nicholson for information in the coming days for information on everything from ROTC workouts to Meet the Greeks night.
Before the meeting was adjourned at 5:32 p.m., Assistant Dean of Students Maureen Keefer spoke to the group about the university's ethics point reporting hotline. Students that see a breech in the university code of ethics now have the ability, one always available to faculty, to report on this hotline. For more information on the ethics hotline, and Robert Morris's ethics policy, got to http://www.rmu.edu/web/cms/university/ethical-practice/Pages/faq.aspx.
SGA meetings are much like a town hall meeting in the respect that they are open to everyone. They are where decisions are made that address and affect student's day-to-day routine here at RMU. All students are welcome to attend, address issues and present ideas. If you have anything that you would like to address at a SGA meeting, email [email protected] to get your idea on the agenda for the next meeting on Monday, Oct. 8 at 5 p.m..
About the Writer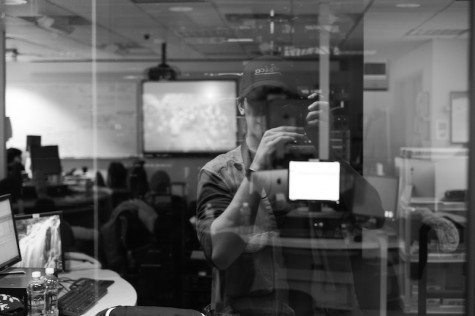 Paul Wintruba, Contributor
Paul is a junior photography major, and is a photographer for RMU Sentry Media.