Students soaked up the sun at the Winter Beach Party
Phi Mu Delta fraternity hosted its third annual winter beach party on Dec. 10 to raise money for their philanthropy St. Jude Children's Research Hospital.
Vice President of Membership Jonathan Guaetta spoke about the return of the Winter Beach Party.
"This year, being back in person, is super exciting to finally get the event up and running. The third year that we are doing it, so we are super excited to mold the event into something that will become a staple for the future years at RMU, but still the same aspects," said Guaetta. "We have big raffle prizes that we are giving away, over three thousand dollars worth of items. We're looking at every fifth person walking through the door is going to get a gift card of some sort."
Guaetta delivered in bringing in new games and ways to win prizes for this year's event. The Winter Beach Party kicked off with hosts Andrew Arrigo and Sarah Parry asking attendees if they had a quarter and rewarding the first person to bring them one with a $50 gift card to Primanti Bros. They then used the quarter to play a game of heads or tails with participants moving across the room based on what they thought the verdict would be. The last person standing won a pair of Beats headphones.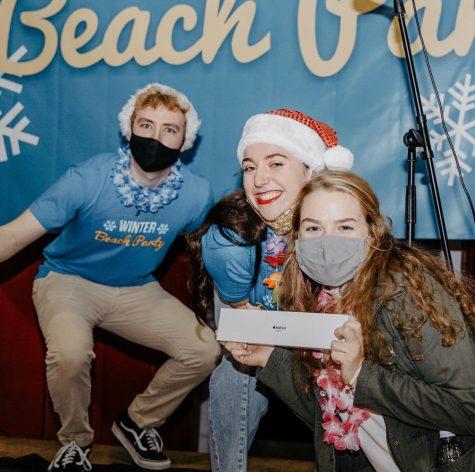 "We want everyone to go there and be surprised by what simple things they can do to win amazing prizes," said Guaetta. "Whether it's playing rock paper scissors to win an Apple Watch or just showing up and being the fifth person to walk through the door to get a gift card. We want it to be something that is exciting and this year, we have been keeping a lot of things secretive so whenever you get there, the expectations are blown out of proportion."
As promised, the event continued with a rock paper scissors competition for an Apple Watch, some trivia questions about St. Jude Children's Research Hospital and a game of musical chairs that caused some quarrels among participants. After two different final rounds where the participants tied and an audience vote to determine the winner, the coveted JBL speaker was awarded to junior Tory Wirfel.
"I was kind of shocked. I didn't really expect to win. I knew I was good at musical chairs, but the final was kind of hard because we kept pulling it on each other and the crowd chanted," Said Wirfel. "It feels good, but I was really nervous."
The Winter Beach Party continued with a limbo contest and a half court free throw competition. Both had stiff competition, with the free throw contest winner throwing the ball backwards and making the shot without even being able to see the net. Phi Mu Delta also made sure that their decor was perfectly in place and that refreshments were available to all. The gym was divided in half with one side being decorated with blow up beach balls, cornhole and other beach necessities. The other housed a faux fireplace, hot cocoa bar and even an inflatable snowman to give off some winter ambiance.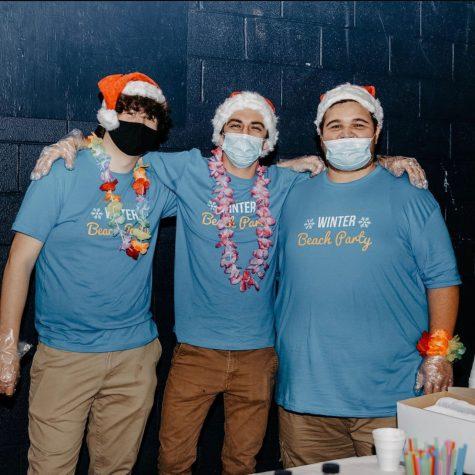 Phi Mu Delta also ensured that the event first and foremost stayed true to their ultimate goal: to raise more money than ever for the children at St. Jude Children's Research Hospital and help to make their holiday season merry and bright. Inside the gym, the fraternity members rallied together to create a station for attendees to make and decorate holiday cards to send to some of the kids at the hospital. The station included bright and colorful construction paper, more markers than imaginable and packs of stickers with everything from characters to holiday decorations.
The most impressive feat of the event, however, came in the form of a massive raffle. Phi Mu Delta had almost any prize imaginable including an iPad, airfryer and many other prizes donated by local businesses in the community. From both the $5 entrance fee and money that they raised from selling raffle tickets, Phi Mu Delta raised $7,136 for St. Jude Children's Research Hospital; completely demolishing the organization's $5,000 goal.