Colonials battle with the Quakers, lose in fifth set
Tonight's matchup between the Robert Morris Colonials and the University of Pennsylvania Quakers was nothing short of a battle.
The Colonials went five grueling sets with the Quakers (3-4) tonight, both teams having some incredible triumphs over the other. Unfortunately, RMU came up just short in the fifth set, losing 15-12.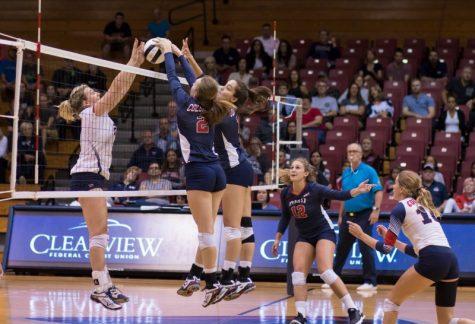 RMU has the potential to compete with teams in their division and exceed the expectations of a small-school team. However, the team just keeps coming up short.
"I have to keep reminding myself how young we are on the floor. We continue to put ourselves in the position to win, but we continue to find ways to not perform in those moments. We've got to figure out a way to just play instead of trying to do things perfectly," head coach Dale Starr said.
Senior Brianna Frakes had a spectacular game against Penn with 49 assists.
Frakes was mentioned by Coach Starr as one of the players that he looks to lead this team to victories in the future.
"Obviously you look to your veterans, to your upperclassmen. You look to Brianna Frakes and Taylor Lord and Allie Yurkovich; the kids that have been here and been battle tested, but you know at the end of the day everybody's got to perform, and we haven't gotten everybody on the same page yet in a fifth set," Starr said.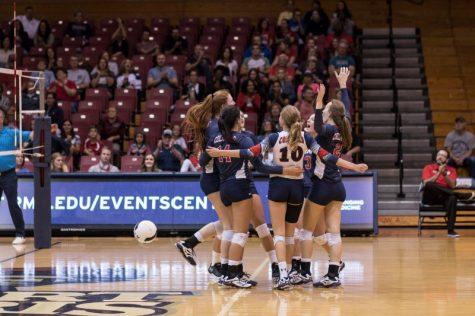 Freshman Emma Granger led the team in kills tonight with 18. In fact, Granger has been leading the Colonials in kills through this season.
"As film gets out on her (Granger) and people are going to start studying her, it's going to be harder and she's going to have to learn to raise her game. That being said, we're pleased with where she's at, she's young and I'm not going to put any more pressure on a freshman than they already feel," Starr said.
RMU has another chance to walk away with a win tomorrow against Rutgers University, being that the team is able to learn from their mistakes from their games earlier today.
"We just need to find a way to find some consistency, it really is as simple as that. We just need to find some consistency, with our lineup, with our production, with our performance; everything. We just need to figure out a way to be consistent and then that will bring some confidence, and then everything will fall into place," Starr said.
The Colonials take on the Scarlet Knights of Rutgers University (4-6) tomorrow afternoon at 12:30 p.m. Hopefully, everything will fall into place for RMU, and they'll be walking out of the game with a victory.