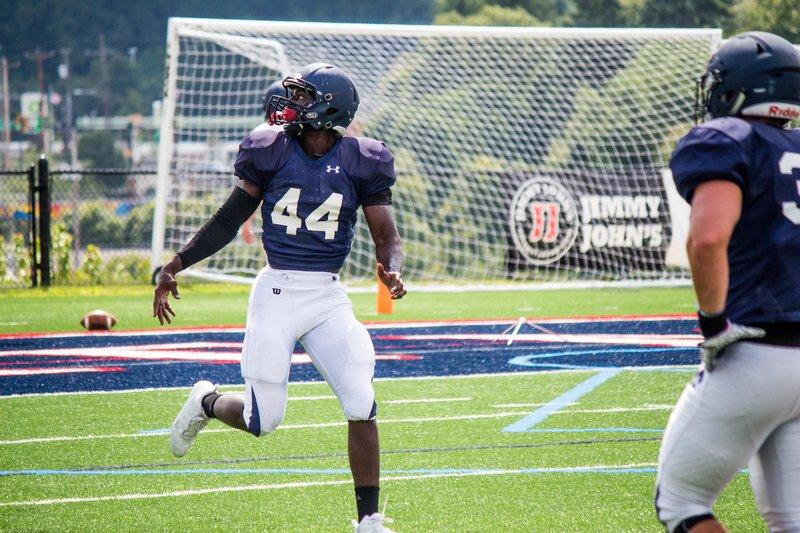 Is this the year for RMU football?
August 30, 2017
College football season is upon us, and the Colonials have their sights set on an NEC Championship after a dismal 2-9 season in 2016.
This year has a make-or-break feel for head coach John Banaszak, who was given a one-year extension last season despite his 7-26 career record.
In a last-ditch effort to prove that he can establish a winning culture here in Moon Township, Banaszak has made a move to place San Diego State transfer Jimmy Walker behind center as the team's starting quarterback. While making the move to transition tall and athletic former starting QB Matthew Barr into the wide receiver role, a move that has been successful for many programs in the past.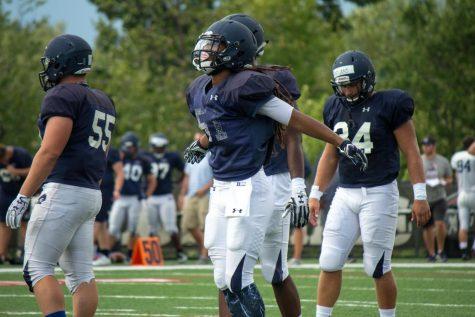 Additionally, the offensive line hopes to show its maturity from last year when injuries and inexperience brought chaos to their entire offense. Army transfer Eric McCallister appears ready to lead at the center position after missing all of the last year.
Justin Boyette is entering his first full season as an offensive lineman after making the transition from defense to offense in the middle of last season. Sophomores Matthew Fennell, Connor Mundy and Rene Rodriguez enter their second years already with a full season of college football experience under their belts with expectations for notable improvement this year.
The defense this season is highlighted by the loss of All-NEC defensive back Marcellus Branch and the expected return performance of NEC defensive rookie of the year linebacker Gee Stanley, who hopes to avoid a sophomore slump and continue the rampant pace for his sack count that he had last season.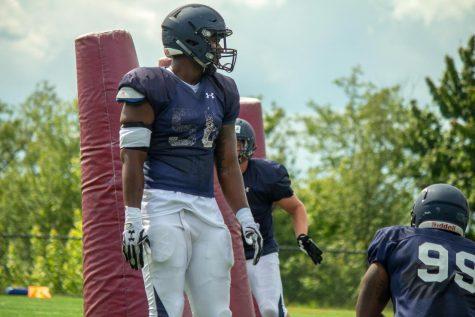 Another exciting addition to the RMU defense is transfer player Izon Pulley, the three-star defensive end who Banaszak and company managed to persuade to take his talents to Moon Township. The talented lineman hopes to make an immediate impact on the defense and fill the gaps left by Ryan Lewis and Steven Fiadewornu.
The pace this year will be set with the Colonials' first performance against the Dayton Flyers this Saturday. Dayton is a team that the struggling Colonials have been unable to find an answer to. Losing in the final seconds of the game in 2015, after failing to get the final play off, and losing 13-0 last season in a strange, weather-shortened game that cut off any chance of an RMU come back.
If Robert Morris can have a strong showing, specifically the offense, against Dayton, they make the statement to those watching from the Northeast Conference that RMU doesn't belong in seventh place, as depicted in the preseason polls.
In his second season running the offense, offensive coordinator Mike Miller needs an improvement from the abysmal offensive statistics his team put up last season and to prove his NFL pedigree is something to be feared in the rest of the conference.
Now that this team has had a year to learn his system, in addition to a far healthier squad from last year, Colonials fans should expect something special from their offense this season.
Or at the least a substantial improvement from the 27 passing yards they had in the November 5th game against Bryant last season.
Jimmy Walker continues to show confidence at the quarterback position, with targets like Warren Robinson, Tim Vecchio, Reggie Green and potentially Matthew Barr, Walker should have a lot of options to play with.
After seemingly being unable to catch the football during last season, tight end Reggie Green has been making waves in practice, and the coaches appear confident that he will be able to make a greater impact from more than just a blocking standpoint this season.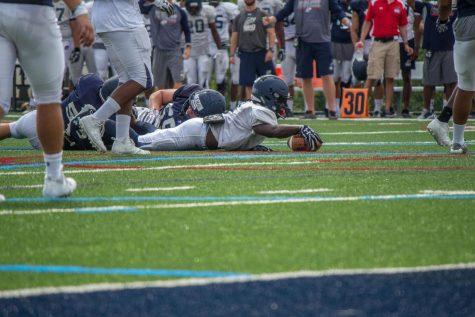 Warren Robinson looks to not only contribute offensively but to continue to make the long, impact punt returns that have made him a household name the past two seasons. Adding a unique aspect that many teams in the conference may not have. Giving the RMU offense a chance to make the most of the excellent field position.
Cole Blake is returning from his season-ending knee injury last spring and is expected to make the kind of impact he had on the field during his 2015 season where he ran for 722 yards in 11 games including three 100-yard rushing performances.
If all these aspects of the offense can mesh with an improved offensive line, the Colonials should shatter their numbers from last season in only a matter of weeks.
On the other side of the ball, if defensive coordinator Scott Farison and his defensive staff can keep pace with last season's performance despite the losses of many impact players, this is a team that could make a run come conference season.
Ultimately, it all does come down to conference play for Robert Morris. The team could drop their first five games, but as long as they come to play once that first conference game against Duquesne comes around, the Colonials could be the talk of the conference.
By season's end, Colonials fans will know for sure whether John Banaszak's tenure at Robert Morris will see another chapter, or if the streak of six straight losing seasons will extend to seven.