RMU wins fourth straight in sweep of Knights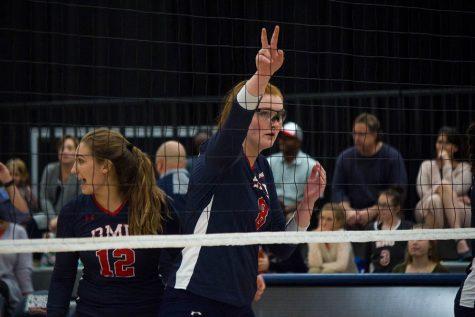 The Colonials volleyball team battled back in the third set to earn a victory over the Fairleigh Dickinson University Knights. Strong play from freshman Emma Granger and junior Taylor Lord powered RMU to the victory.
Both teams traded points in the first set. Robert Morris took a 10-7 lead before Fairleigh Dickinson powered back to take an 18-15 lead. RMU tied the game at 23-23 off of a Knight's error. The Colonials would finish off the first set with kills from senior Deja Tamlin and junior Taylor Lord.
Fairleigh Dickinson and Robert Morris battled from the start of the second set. The two teams traded points and were tied 11-11 before RMU pulled away.
A slew of errors by Fairleigh Dickinson and three kills from Taylor Lord gave the Colonials a 21-14 lead. Robert Morris powered on to win the second set 25-16.
The heart and determination of this young Colonials team was on full display in the third set. The teams would remain tied at 6-6 until Fairleigh Dickinson went on a six-point run. lead. Errors plagued Robert Morris as they continued to fall until they were down 15-8. Already up two sets to none, it would've been easy for the Colonials to give up on the set and focus on the fourth set. A team effort led the Colonials back into an 18-18 tie. A kill by freshman Alyson Londot and an ace by Emma Granger gave RMU the 25-23 set win and 3-0 match win.
"Winning a scramble play or a play that you're not supposed to win definitely provides a lot of energy," said Lord.
"I get more excited off of (scramble plays) than I do off of kills or blocks," said Granger.
The crowd was also excited about the match. A near-capacity crowd for the second game at the new Student Fitness and Recreation Center provided a loud atmosphere that has led the Colonials to six undefeated sets since moving from Sewall Center.
"I love it, personally. The crowd provides us energy. Maybe we're tired after a scramble play and we need a little bit of extra push, and the crowd provides that for us," said Lord.
The Colonials are now 9-9 overall and 3-0 in conference play, which places them in a first-place tie with Bryant University. Picked to finish fifth in the conference, the Colonials are off to a great start.
"It feels great, but we have to keep working," Granger said.
Robert Morris will travel to Brooklyn, NY, Oct. 6 and 7 to take on No. 1 NEC pick LIU Brooklyn and St. Francis. The Colonials return home on Oct. 20 to face LIU Brooklyn.