Colonials upset Scarlet Knights in Sewall's final farewell
This afternoon, the Robert Morris Colonials volleyball team played their final game of not only the Robert Morris Invitational, but their final game in the Charles L. Sewall Center. They walked away with a victory.
Robert Morris started out slowly at first, but as each set progressed, slowly became more alive. Starting to play how they'd been hoping to play all tournament long.
RMU defeated Rutgers University (4-7) in a three-set sweep. Their defensive effort had drastically improved from yesterday to today, bringing, almost seemingly, a brand new Colonial team.
Coach Dale Starr was also impressed with his team's renewed drive and energy today.
"We have a lot of young kids and there's going to be nights where we play really really well and there's going to be nights where we don't play so well. Tonight happened to be a night where we played pretty well," Coach Dale Starr said.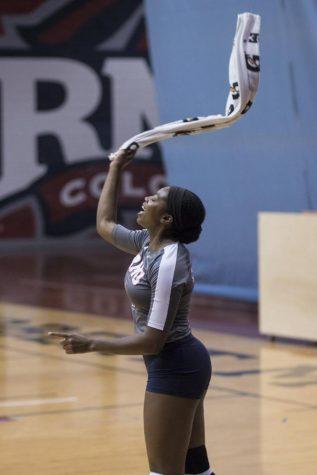 Yesterday, Robert Morris had two rough five-set games, both in which they came up just short of a win.
"I was really pleased with the effort and the energy, team-wide. That's what we talked about before the game. We needed to have more energy, we needed to have more effort and I think it helped and I think it showed," Starr said.
Coach Starr was most certainly right. The players today showed an energy like no other. They truly looked to be having a great time playing a sport they love. You couldn't help but smile along with them.
Another change that the team made drastically from yesterday was not only their attitude but their defensive efforts. Tonight's defensive was one for the highlight reels.
"I'm not sure, I think that we were in position a lot more, we've been working on it for three weeks straight so it (the defense) seems to finally have clicked," Starr said.
It seems like it certainly has.
Freshman Emma Granger had four blocks tonight, Alyson Londot also had four blocks and six digs and Junior Allie Yurkovich also had six digs.
Proving the Colonials defense is on the rise.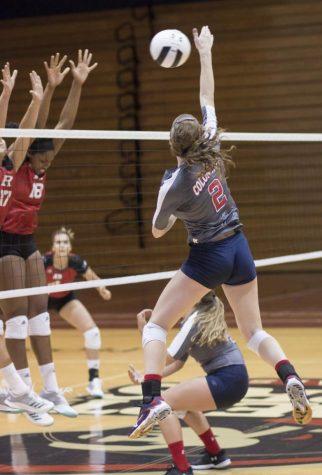 Londot also had a tremendous offensive game tonight with 11 kills, as she had an influential part in the success of her team.
"It was just awesome, it feels so good to just beat a Big Ten team and then coming from yesterday not having the best day, coming today starting really strong really helped a lot," Londot said.
"I was just telling myself 'it's a whole new day,' like yesterday doesn't matter and just get what we can get done today," Londot said.
As previously mentioned, the Colonial's energy and all-around atmosphere was off the charts for today.
"It was great, the feeling just takes over your body and you don't know like, it's just great," Londot said.
After their win today, RMU has shown they have what it takes to compete, and their games throughout the rest of the season. Tonight's game will surely be one that stays with them as they continue on their journey to the NEC Championship.
Keep your eye out for their next game on Sept. 22 at 7 p.m. against Saint Francis University, as conference play gets underway.