Robert Morris, Long Island play to 1-1 draw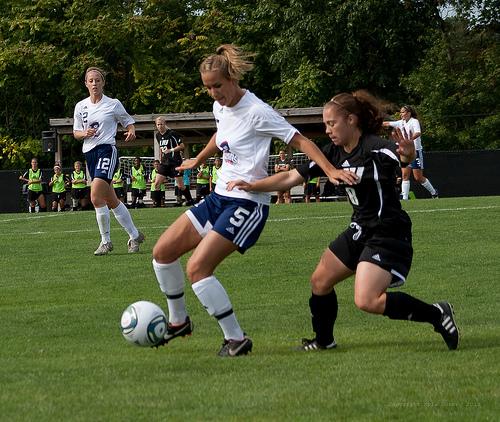 The Robert Morris University women's soccer club was unable to secure its first victory of the 2012 campaign as the Colonials and Long Island University Blackbirds battled to a 1-1 tie Friday afternoon at the North Athletic Complex.
The Colonials, who had 10 shots on Long Island goaltender Jennifer Bannon, could not find the back off the net, and as a result, fell to 0-9-2 on the season.
Robert Morris opened the contest with a scoring opportunity when Cassie Raymond slid past the Blackbird defenders and rifled a shot that ricocheted off the top of the net.
Senior forward Lauren Thomas, who missed the first eight games with a groin injury, entered the match as a substitute at the 29 minute mark. Thomas's presence sparked an offensive surge for the Colonials.
The native of Wheeling, West Virginia put RMU on the board ten minutes later when she came streaking down the left side of the field and snuck a shot behind Bannon for the score.
Robert Morris had a chance to add to its lead heading into halftime but Alexa Sarsfield's free kick from 40 yards out bounced off the post and out of play.
Despite leading by one goal at the half way point, the Colonials were unable to hold the lead for long. At the 64th minute, Katie Egan's free kick was headed in by Toni Smith from 12 yards out to even the score.
Freshman goalie Chelsea de Jager stopped nine shots for RMU, while her counterpart made 10 saves for Long Island.
With the tie, the Colonials drop to 3-11-2 all-time against the Blackbirds as well as 0-0-1 in the Northeast Conference.
Robert Morris continued its 12 game winless streak, dating back to October 28 of last season.
RMU will continue their NEC schedule on September 28 at Monmouth, before battling Fairleigh Dickinson and Mount St. Mary's the following week. The Colonials then return to the North Athletic Complex for a two game home stand against Central Connecticut State and Saint Francis (Pa) respectively in early October.
About the Writer
Nick Buzzelli, Sports Editor
Nick is a senior communication major with a concentration in journalism at Robert Morris University and is the Editor-in-Chief of RMU Sentry Media.

In...