The story of the Robert Morris soccer siblings
With very successful careers on the soccer field and what seems to be a natural talent for the sport in their bloodline, siblings Jane and Seth Schleicher will both be representing Robert Morris University for the 2018 season.
The Schleichers are no strangers to success in the world of sports. Jane Schleicher alone has made a very impressive name for herself through the women's soccer team. In 2016, Jane's sophomore year, she started 13 games out of a 15 game season. Also during that year, she scored a game-winning goal, finished second in assists and scored a team-high three goals.
The following year, Jane continued her success by tripling the number of game-winning goals she had, started all 17 games and made the All-Nec Second Team by finishing second on the team with eight goals and three assists. Overall Jane shares the eighth overall position in single-season program history in goals and points, she sits third all-time at RMU for goals per game and is currently tied for fifth in the nation for goals during the 2018 season with seven on the year.
Success in soccer for the Schleicher family does not end with Jane though, as her younger brother Seth seems to be just as skilled.
Although yet to play as a Colonial, Seth Schleicher is no stranger to victory. He led the Montour High School Boys soccer team to the PIAA State semifinals and was named a WPIAL All-Star. While also at Montour he led the team in both scoring and assists during his senior year. Outside of his high school team, Seth also played club soccer for Beading SC where he helped lead the team to a State Cup championship.
Although it is looking like the 2018 soccer season will be bright for both Seth and Jane, the two are excited to play for Robert Morris for an entirely separate reason. With Seth's decision to continue his education at RMU along with his sister, the two have been given the opportunity to not only bring pride to their school but also to their last name.
"I think it's fun just seeing him every day in passing and just having our names on both sides of the soccer world," Jane said in reference to getting the opportunity to play alongside her brother Seth.
"It makes even game day kind of like a family thing," she said.
The excitement does not just reside with her though. Seth also seems to be anxious to represent RMU with his sister.
"I've always really wanted to come here and play, and the fact that my sister's here makes it that more special because I've always followed in her footsteps, my whole soccer career, really, she's always been in front of me and I've always kind of gone off that," said younger brother Seth.
"I feel like anything she played, I kind of followed. When she played basketball, I'd play basketball, when she plays soccer, I play soccer," said Seth.
It is clear that Seth has found inspiration in his sister during his soccer career, but he is not the only one of the two siblings who look to the other for guidance and motivation.
"In general, I really admire the way that he is able to keep his head up and always stay calm because sometimes I struggle with that. I get really emotional and my competitiveness brings out certain emotions that aren't always the best, and he's the opposite of me in that way and I really admire that," says Jane.
Inspiration is not the only thing that drives the brother and sister duo to better themselves on the field, there is also a playful competitiveness between the two.
"I feel like I'm a bit quicker, a bit more technical, and I'd be able to muscle her off the ball as well," says Seth.
Despite how confident Seth seems, Jane has a different idea of who she thinks would win on the field.
"Unless he took some cheap shots and just used his physicality I think I would have him," says Jane.
Regardless of their competitiveness, it is very clear that the two have developed a steady admiration and mutual respect for each other. Other members of the Schleicher family have played a massive role in their lives too, though. With their father being a great supporter and sports fan, and their mother being an RMU alumnus, it is no mystery why Seth and Jane have ended up where they are.
"Sharing the name — all three of us — and that someday I'll be an alumnus of the same place, is just really different and I don't think a lot of families have that going on," said Jane about her mother's experience at Robert Morris and how it will affect the family.
"Also, with Robert Morris being local it's even better because they love coming to home games and she likes seeing the difference because when she went the campus was downtown and just, obviously, has come a long way. Like I said, she can be here all the time, every home game, for both of her kids and I think that both her and my dad really enjoy that part."
As Jane and Seth's mother heavily inspired the two to go to Robert Morris, their dad inspired some of their athletics.
"I've always played soccer since I was like two, so that's always been my main focus, but we've both also played basketball and my dad is really into sports like soccer and basketball and he got us into that," says Seth.
The Schleichers have played soccer for many years and the sport has shaped their lifestyle and their family. With more yet to come, the seasons they play at Robert Morris will only strengthen the already unbreakable bond that the siblings have.
"It does go by really, really fast and we have both been playing soccer for majority of our lives and this is the tail end of it to make the most of it and enjoy it, even the days you think are bad, just realize that we only have this much time left to play this game, so, live it up," says Jane.
About the Contributor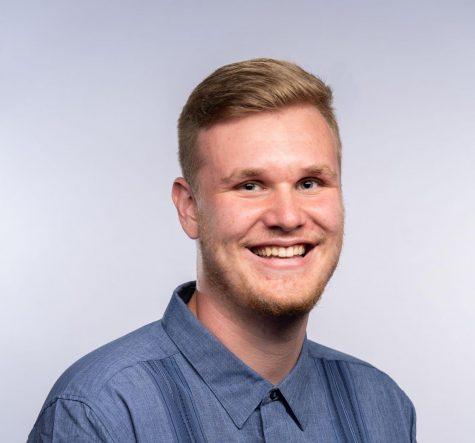 John Blinn, Head Arts & Entertainment Editor
John Blinn is a senior Communications major from Freedom. John can be found most of the time listening to the Foo Fighters. John is taking on two new roles...