Colonial Esports Club players share thoughts on Fusion Arena
Scott Mcdanel, Assistant Arts and Entertainment Editor
April 4, 2019
MOON TOWNSHIP – Comcast Spectacor and The Cordish Companies have announced the plans for their newest project, Fusion Arena. The first purpose-built arena for esports, it is one of many changes coming to the Philadelphia Sports Complex.
Fusion Arena will act as a home stadium for Philadelphia Fusion, the city's Overwatch League team. According to a public statement by Comcast Spectacor, the arena will cost $50 million and be capable of seating 3,500 people. The building will also feature various forms of interactive technology.
"It's incredible that it hasn't gotten representation until now," said Tyler Coates, president of the Colonial Esports Club. "Seeing it now shows that there is progress moving forward with it, and that it is picking up the pace compared to modern athletic series like the NFL."
While the arena is a new step for those in the professional esports industry, collegiate teams will also see positive effects from the new stadium. By giving the industry a larger public platform, Fusion Arena can provide public awareness of the sport nationwide.
The price tag may lead some to think the investment is a gamble, as the esports industry is still young compared to the other powerhouses in sports entertainment. However, those involved with competitive gaming see the potential that an arena can bring to the team.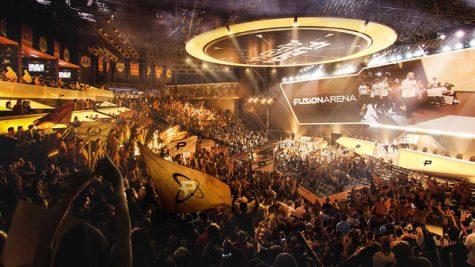 "A lot of money is in it," said Coates. "From franchising to broadcasting and merchandising. They always chase the magical dollar sign."
While the arena will be a way for teams to make their names well known, a part of the responsibility will also fall on game developers to improve their competitive communities.
The Overwatch League saw mass appeal — receiving broadcast on major networks such as ESPN and ABC. Yet, the core community must engage with the games for esports to succeed. Without the the attention of people who play the games, the competitive environment will struggle to see the same success they have in the past.
"It's tough to say with Blizzard," said Luke Brown, captain of the Colonial Esports Club's "Counter-Strike: Global Offense" team. "Who knows what they are thinking on the inside. They haven't really taken esports seriously; I think it's too little too late."
Fusion Arena is set to open in 2021 with construction starting this summer.