Day 1 of NOLA13 convention: Sessions, sights, sounds of New Orleans
Nawlins. The Big Easy. New Orleans. Whatever ya'll like to call this lively city, the 92nd Annual Associated Collegiate Press/College Media Association's National College Media Convention is being held here through Oct. 27.
Having arrived in New Orleans late Wednesday evening, the students I came here with from Robert Morris University's Society of Collegiate Journalists began our sessions on Thursday. With this being the third ACP/CMA convention I have attended, I have found each one very beneficial and this one is no different.
On Thursday, I attended two sessions: Creating Interactive Online Infographics at Rock n' Roll Speed and Producing Television News.
Hosted by Alex V. Cook of Louisiana State University, the session Creating Interactive Online Infographics at Rock n' Roll Speed discussed two options for creating simple and efficient infographics using Microsoft Excel sheets. The first free site Cook spoke of that is only available to Windows operating systems was Tableau, which allows you to import Excel sheets and organize the information in a variety of ways.
The second was Google Fusion Tables, which Cook said does not always like to cooperate, but would be the only option available to Mac users. However, I plan to look into more options, as I am a Mac user, upon my return to the 'Burgh.
Passion was the key word in the second presentation I attend on Thursday. A former reporter and anchor, Sonya Duhe of Loyola University of New Orleans spoke about the ways in which broadcast students can better their college newscasts. Her advice: aim to have your pieces picked up by local media – produce the best content possible and that will make up for any lack in the quality of the work. Some good news for RMU students – Duhe highly recommended universities have access to CNN News Source, which our RMU Live newscast includes in their broadcasts each Monday.
In addition to the sessions I attend, I joined up with my fellow SCJ officers, John Klocko, Brooke Smith and Nick Buzzelli, at 2 p.m. EST to broadcast live back to RMU Radio. Students from across the country will continue to broadcast live from New Orleans through Oct. 27. Take a listen at ncmcradio.org!
Heading into the our second and last full day in New Orleans, we'll be taking in the sights and sounds of this culturally overloaded city and report back to yinz back home! So far, it's been sunny, warm and an experience of a lifetime.
About the Contributor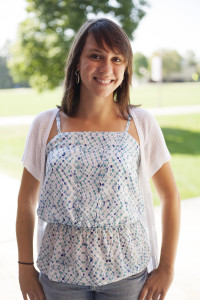 Andrea Zanaglio, Staff Writer
A senior journalism major at Robert Morris University, Andrea serves as a staff member this semester, writing and producing packages for all aspects of...