Quantum Theatre to perform in Sewickley
Garret Roberts, Assistant Arts and Entertainment Editor
February 27, 2019
The Quantum Theatre is bringing their newest production, "The Gun Show (Can we talk about this?)," to Sewickley this weekend. This one-man show hopes to spark discussion about guns in various communities–allowing for open dialogue about the issue.
The Tull Family Theater will be hosting the play in their Esmark and Bouchard Community Room from Wed., Feb. 27 through Sunday, March 3. The opening performance on Wednesday is already sold out.
"Tickets for the play are available through the Quantum Theatre's website," Karen Ferrick-Roman, Director of Communications and Education at the Tull Family Theater said. "Because of limited seating, we suggest purchasing tickets in advance. The tickets are discounted for students, to $18, and the topic is timely."
"The Gun Show (Can we talk about this?)" is an exploration of the writer's personal experience with guns. Created by Ellen M. Lewis, the play uses a male actor to describe her history in a dynamic way and presenting the information in a neutral and unbiased message.
After the play, the floor is opened to discussions with the local community. Led by an expert on gun issues, the discussion is a civil forum that will allow members to share their personal experiences.
"Every night has a 15-minute post show conversation," Stewart Urist, the Quantum Theatre's Managing Director, said. "Our Patron Service Associate, TJ Parker-Young, leads the group in an exercise meant to interrogate personal relationships with guns, and then, we open the floor for people to share their own stories."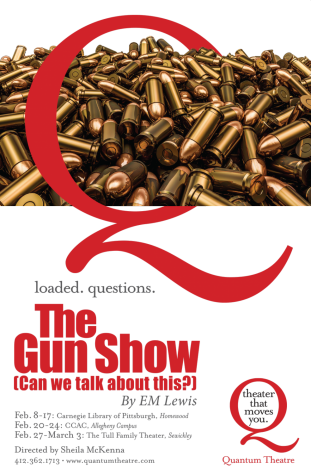 While the discussion is based on personal stories, it is also intended to make others aware of the community's history with guns. This allows people on both sides to experience an opinion on the issue from an angle they may not have considered before.
"My key takeaway is that it's an impassioned plea for conversation that makes room for people on both sides of the partisan divide," said Urist. "For example, just today I got an email from a patron with what she described as very hard left views on guns who is now questioning some of her beliefs and feels more willing to engage with people on the right after experiencing the play. We aren't so proud to think we are going to 'solve' (the) guns (debate) with this piece, but we do hope to help people actually talk with one another about this important subject."
The show's demographics are an important part of the performance as well. Previously hosting the play in Homewood and the Northside, they hope that Sewickley's community will also bring unique stories to the discussion.
"With 'The Gun Show (Can we talk about this?),' there is a plea for talk and togetherness," Urist said. "To enable that, we sought to bring our play to community spaces where people might come for other types of connection with their neighbors. As we spoke and planned more, it became important to us to bring it to multiple community spaces over its run. Different communities, different conversations."
The Tull Family Theater worked with the Quantum Theatre last year when they screened their film: "The Limehouse Golem." By building a relationship with the group, they hope to see other performances come to their venue.
"This one-man play is the first live theatrical performance at The Tull Family Theater," Ferrick-Roman said. "As a young nonprofit, we expect to develop opportunities that will bring other cultural options to our region."
The Quantum Theatre has no intention of slowing down either. Planning their next performance, they will continue to look for interesting venues to stage their plays.
"Our next production is a new edit of King Lear, presented at the magnificent Carrie Blast Furnaces in Swissvale/Rankin," Urist said. "We'll run from May 10 through June 2. The Furnaces are one of the best preserved relics of the steel industry, and our play will take place right in the midst of that titanic structure, under the gaze of the Carrie Deer, for the first half and then in their 'rock garden' for the second, a tranquil part of the site which has been partially reclaimed by nature."