Tull Family Theater hosts screenings for kids with special needs
A look at how local theaters are helping those who need special accommodations.
Garret Roberts, Arts and Entertainment Assistant Editor
November 28, 2018
Hang on for a minute...we're trying to find some more stories you might like.
SEWICKLEY – For the majority of Americans, a trip to the movies can be fairly mundane. Having been to the theater countless times, the experience is usually only as memorable as the quality of the film or the taste of the popcorn. For the group who visited the Tull Family Theater on Nov. 17; however, this trip to the movies was one they will never forget.
By offering low sensory screenings, the theater allowed those affected by special needs to experience a movie theater for the first time. At their first public "Adaptive Screening," around 90 children and their families came from across Pennsylvania to enjoy a special showing of the Illumination's version of "The Grinch."
"For some families, it was the first time they were watching a film together in a cinema," said Karen Ferrick-Roman, director of communications and education at the Tull Family Theater. "For at least one teenager, this was his very first time to enter a cinema. The adaptations made for the screening enabled many of the younger patrons to exceed even their parents' expectations as they became enthralled in the story unfolding on the screen!"
While a trip to the the movies may seem simple, those with special needs don't have as easy of an experience. Children with autism can experience sensory overload during the film, which can ruin their enjoyment of the film or cause them to panic. In addition to just being in an enclosed, dark room, the entire experience can be overwhelming. As a result, many parents choose to find alternative ways to have fun.
"My son, Ty, age 10, has autism and sensory processing disorder," said Tina Bower, one of the parents who attended the event. "He is very sensitive to loud environments, sounds, startling noises, etc. There are so many other children and young adults that experience the same. Because of this, we tend to seek out activities that will accommodate these sensitivities."
To accommodate those with autism spectrum disorder, The Tull Family Theater made various accommodations to the showing. Rather than plunging the room into darkness, the lights were left dim, and all of the doors were left open. To deal with the typical loudness they would hear, the film's overall volume was lowered to a level that the audience was comfortable with.
"There are offerings in Pittsburgh that are sensory friendly, but there are very few that are offered in the suburbs," Bower said. "When you're raising a child with special needs, there are many moving parts that you have to work out with everything you do. Having an option to see a sensory friendly movie in the suburbs with little to no traffic, plenty of places to park and a friendly, welcoming environment, makes an outing that much more enjoyable."
These types of screenings are rare outside of big cities like Pittsburgh. While theaters like AMC also offer low sensory screenings at The Waterfront, those with special needs in the suburbs don't have as many options. As a result, many kids and young adults never get to enjoy the stories and characters that most take for granted.
According to the 2014 Pennsylvania Autism Census Update, the number of residents with autism spectrum disorder has tripled since 2009. With 1 in every 68 children being diagnosed and nearly 55,000 citizens receiving accommodation services, the need becomes more and more pressing. While cities such as Philadelphia and Pittsburgh are making large strides through legislation and free services, those in the suburbs must take the initiative to see these changes happen.
"Strengthening the cultural, entertainment and educational experiences northwest of Pittsburgh is the mission of The Tull Family Theater," Ferrick-Roman said. "Our first public low-sensory screening clearly supports this mission and offers new options to residents with few other similar cinematic opportunities. The entire theater team felt gratified to be of service to the special needs community and would like to acknowledge the collaboration of numerous organizations and nonprofits involved in this event."
The Tull Family Theater plans to offer similar showings in the future, hoping to make the screenings available more often. As many theaters in the area do not offer accommodation services, having local options not only introduces these children to the world of film, but allows parents and families to bond in a new way.
"To watch a movie in the climate of acceptance and understanding brings relief to these amazing families," Bower said. "The theater was full of children and families who may not have otherwise had the opportunity to see 'The Grinch' in a theater. There were squeals and laughter and clapping with excitement. There were children stretching their legs and moving about when needed. And at the end of the movie, there was a round of applause and a theater full of smiles. The experience was beyond what I expected. My son has not stopped talking about it and asking when our next 'date' will be at The Tull Family Theater."
About the Contributor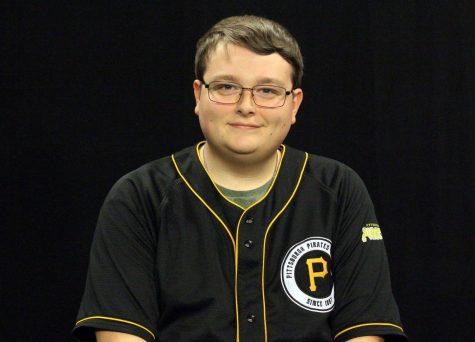 Garret Roberts, A&E Editor
Garret Roberts is a Journalism Major with a double minor in Documentary Studies and Photography. He is in his third year at Robert Morris. Garret has been...