Review: Aquaman
After brief appearances in both 2016's "Batman vs Superman," and 2017's "Justice League," Aquaman finally received his first full length feature film on December 21st. After keeping fans waiting for years, the movie only delivered half of what it promised. Despite winning its opening weekend in the box office and pushing the DC extended Universe over the $4 billion mark, the film still hit a few snags.
"Aquaman" is the sixth movie set in the DC Extended Universe, and is only the third film in the universe that focuses on a solo hero instead of a group, like "Justice League" or "Suicide Squad." The DC films have had several failures, whether it was the movie quality, storytelling, continuity confusion or box office numbers. Each film so far hasn't sat well with people in one way or another. While the acting in this film and the overall storyline was sound, the main shortcoming with "Aquaman" is that it was kind of … basic.
The current state of superhero and comic book movies sees a film be released every few months, so audiences are needing more and more diversity in the movies to make them better. Any film that can switch up the formula in any way is rewarded with a better final product, but the plot for "Aquaman" was just too normal. Don't get me wrong, the film was still fun, but plot twists and shocking scenes are necessary for a film to be good, and the entire thing was predictable. That may be a good thing, as DC films have been eviscerated by critics so far, so it makes sense that Director James Wan decided to play it safe with Aquaman and tell a traditional story.
One of the better parts of this film was its faithfulness to the source material. While most people may think of Aquaman as a clean-cut, boring and "not too powerful" superhero, every other character in this film looked like they were ripped from the pages of the comics. Villains Ocean Master and Black Manta, who were played by Patrick Wilson and Yahya Abdul-Mateen II respectively, both did the characters justice and some of the fight sequences they were involved in were extremely impressive to watch.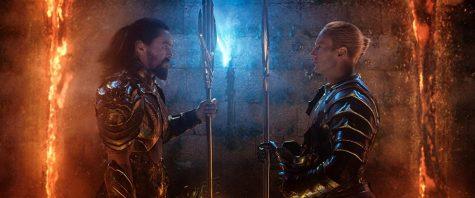 As I mentioned before, this version of Aquaman isn't quite what most people expected, and it makes sense since the character has always been a little bit more on the lamer side for his entire existence. Jason Momoa's Aquaman isn't the scrawny fly-fish riding hero that most people had in their minds. Momoa does more than do the character justice, he makes him a force to be reckoned with.
His gritty, tattooed and buff version of this character make the movie significantly better than if the character had been more based on the source material. Momoa is known for playing these type of characters, previously Khal Drogo in Game of Thrones and Conan in Conan the Barbarian, and Aquaman fits him perfectly.
While there are some cheesy moments in the film, and it may not be perfect, it at least puts the DC slate of films on a better course than they started off on. With "Shazam" and "Wonder Woman 84" expected over the next two years, it'll be exciting to see how "Aquaman" influenced the future course of the universe. The thing that makes this film worth seeing is that it sets itself aside from the rest of the universe, it doesn't take itself too seriously which leaves room for it to be a more genuine and fun film.