Review: Captain Marvel
"Captain Marvel" soared into theaters this past Thursday, March 8, bringing a new chapter to the Marvel Cinematic Universe. The movie currently ranks at 80% on Rotten Tomatoes, but is this number accurate?
This movie is Marvel's first feature length film starring a female superhero, and controversy arose over the film's lead, Brie Larson, and comments made on the promotional tour for the film. Despite the controversy, the movie brought in, according to the New York Times, over $150 million in ticket sales during it's opening weekend — surpassing the opening of "Wonder Woman."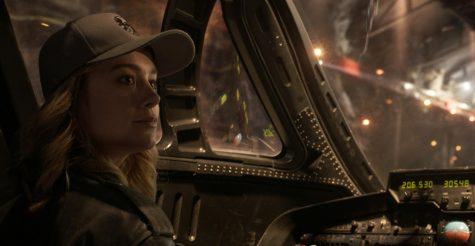 While the movie broke box office records, in terms of plot structure and ingenuity, it wasn't very groundbreaking. Brie Larson, who plays the title character, was phenomenal nonetheless. While the film caused controversy for the fact that it featured a female in the starring role, the issue of feminism was never in front as a plot point. Subtle moments of the strength of the hero made the film one that anyone can get behind, whether they wanted to boycott it or not before seeing it.
"Captain Marvel" starts off fast and maintains a quick pace throughout the film. The story never feels drawn out, using all of it's screen time in a useful way.
With strong action sequences, as well as incredible special effects, the cinematography is never boring. The blasts of energy that Captain Marvel shoots from her hands during the film make the action scenes fun to watch, all the while easily establishing Carol Danvers as one of the most powerful individuals in the Marvel universe.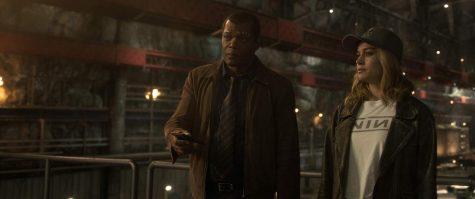 Another highlight of the movie was the return of Samuel L. Jackson's Nick Fury, who was last seen in a post-credit scene for "Avengers: Infinity Wars." In this film, a young Nick Fury assists Captain Marvel on her journey to find out more about her origin and act as a bridge to the rest of the Marvel Cinematic Universe.
Fury also injected humor into the film, playing with a house cat named "Goose." His reactions to the arrival of aliens on Earth adds to the character and makes the experience more enjoyable as a whole.
The most impressive piece of the movie is what it promises for the future of both the Captain Marvel character and for the Marvel Universe as a whole. The direction of Captain Marvel seems intriguing both in terms of the character's own story, which isn't fully finished in the film, and in terms of the way she will play into the upcoming Marvel blockbuster. :Avengers: Endgame," which is expected in theaters April 26.
In the end, "Captain Marvel" is an important movie because it features a story about a woman breaking down barriers, which is what the movie did in the box office as well. While the film is not incredible, it does a marvelous job introducing a new hero and building suspense for the future.