RMU student hosts art gallery for honors thesis
MOON TOWNSHIP — On Friday, March 15, a honors thesis salon-style exhibition took place in the Wheatley Atrium. The exhibition, "Rebellion in Modern Art Focusing on the Paradigm Shift in Modernism," featured artwork by Ali Cannon, a student at Robert Morris University.
"'Rebellion in Modern Art' is my honors thesis that I have been working on for a year," said Cannon. "So, specifically, I'm focusing on previous rebellious modern artists, back in 1910, 1920, and what they did to change the way people view art."
The gallery featured five pieces of artwork, which were titled "Outliving Earth," "String Error," "Contradictions," "The Curtains were Blue" and "There is no True Student-Loan Crisis."
"Outliving Earth" depicts our future, as stated in Cannon's process book. Heather Pinson, a professor for the Media Arts Department at Robert Morris University, said it was the one that Cannon "worked the hardest on" and her boyfriend, Johnathan Saxman, said it was his "favorite artwork at the gallery."
"String Error" was made in response Georges Barque's "Violin and Candlestick." When making "String Error," Cannon painted violins and candlesticks with different outcomes than those depicted in Barque's piece. Her take on the instruments was meant to depict the many possible worlds with a variety of outcomes for each of them.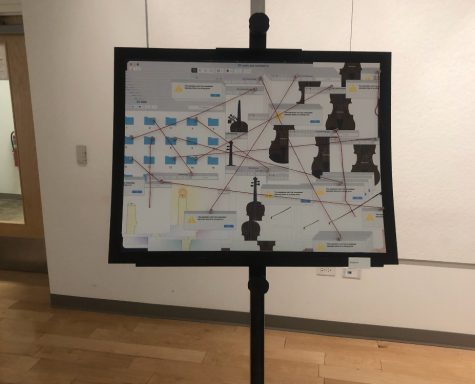 "Contradictions" was made as a response to audiences being upset with white paintings. Cannon's painting is meant to mimic these white paintings by using pink as a twist on the formula. In a white painting, the closer someone looks at a painting, the more they can see. Cannon's painting is done in the same way, with the image becoming more intricate the more it is observed.
"The Curtains were Blue" is unique because it has no meaning at all. In this artwork, she uses dark colors to make it seem like the painting deals with depression. However, the saying "the curtains were blue" was made to mock English teachers who looked too much into symbolism in literature.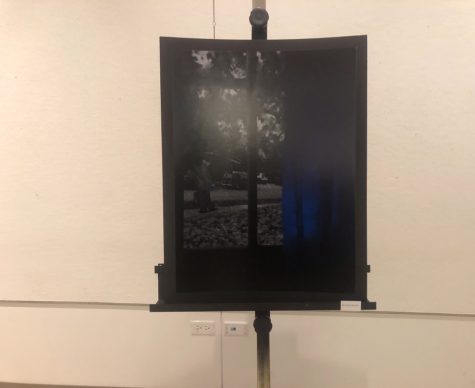 Cannon said that her favorite artwork at the exhibition was "There is No True Student-Loan Crisis," which was made in response to an op-ed written by Robert Morris University President Chris Howard.
"It's basically a response to Dr. Howard and his statement and article in the Pittsburgh Post-Gazette saying that there's no student-loan crisis," said Cannon. "I just wanted to have a response about how I feel about my loans and how overwhelming they are to me."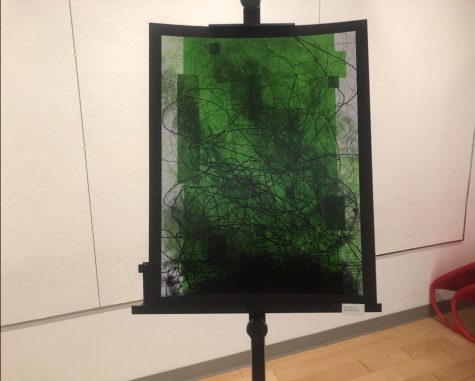 "I like it because that one hears to the rebellious nature," said Pinson. "She's tackled some pretty difficult topics and made it current. The reason I like the green one is that it's the theme, you need to rebel. And as a young person, this is the time to do that. She's embraced that in a professional manner and has handled herself professionally too."
Cannon is currently a design intern for RMU Student Life. According to her LinkedIn page, she describes her motivation as, "I'm driven to create; with each project, I visualize how a mark will improve a brand or how interactivity can boost user engagement."
Her art show was visited by a lot of friends and family, as well as students. The event allowed students to earn SET credit for attending.
The event also featured a performance from Pinson, who provided her violin playing for the event. In addition to serving as Canon's honor thesis adviser, Pinson's performance added another layer to the exhibit.
Pinson regularly performs in rock and jazz music on her violin, in addition to her classical training. She has also been a Composer in Residence for the Distillery Program of Pittsburgh's Brew House Association and helped create projects for the Mattress Factory Museum of Contemporary Art.
Pinson said that Ali has been working on the porject for a year and a half and that it was a difficult process. She mentioned that she was very proud of her after all the artistry that she put into it.