'Round about Pittsburgh: Coaster Landmark Turns 75
Although not located in Pittsburgh, a historic structure outside of the area is celebrating an important birthday.  Celebrating 75 years this summer is the Conneaut Lake Park Blue Streak.  The roller coaster opened at near by Conneaut Lake Park in the summer of 1938.  Designed by Ed Vettel Sr. of the T.M. Harton Company and Pittsburgh's West View Park, the roller coaster has thrilled generations of riders.
The Blue Streak at Conneaut Lake Park is one of two surviving Ed Vettel coasters in existence.  The other roller coaster, Cyclone, is located at Lakeside Amusement Park in Denver Colorado. Ed Vettel was well respected in the amusement industry and designed numerous coasters over his career.  He also designed the trains that run on the Jack Rabbit at Kennywood located outside Pittsburgh PA.  His nephew Andy Vettel designed Kennywoods Thunderbolt roller coaster.
Over the years, roller coasters have been dismantled or removed and many have not survived 75 years.  The Blue Streak has lived a tough life but it has continued to entertain guests due to enthusiasts and concerned individuals.  Conneaut Lake Park has run into problems numerous times over the years, but it is a place that has pulled off the impossible many times.
Adams Amusements the ride operator at Conneaut Lake Park, has invested large amounts of money into every ride including restoring the Blue Streak.  Adams Amusements is dedicated to preserving the rides for future generations.
After a recent trip to Conneaut Lake Park, I can say the Blue Streak is running better compared to my previous visits.  It is no easy task to maintain and repair something that is 75 years old but the dedicated workers are doing an excellent job.
The park is slowly but surely coming back to life and with your help, the other rides and Blue Streak will continue to entertain guests for years to come.  So if you are looking for something to do this summer, take a trip to Conneaut Lake Park and help celebrate 75 years of the Blue Streak.
On Saturday July 20, 2013 from 1-9 PM, the park will be celebrating the roller coasters birthday by having an event entitled 'Blue Streak Birthday Bash!'.
For more information, please visit
http://conneautlakepark.com/
http://www.adamsamusementsllc.com/
About the Contributor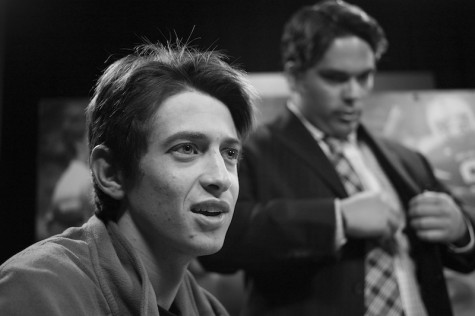 Mike Funyak, Staff Reporter
A Senior Business major with a concentration in Management at Robert Morris University, Mike is a Staff Writer and Blogger for "The Sentry."

In...