'Round about Pittsburgh: Enjoy Your Ride of a Bygone Era
Located outside the city of Pittsburgh in Washington County is a museum that has preserved a unique experience for 50 years.  The Pennsylvania Trolley Museum states a visit is "More than a ride…it's an Experience!"
After a recent trip to the museum, the saying is absolutely true and when a museum is open for 50 years, you can imagine it becomes full of treasures.  There are a number of streetcar treasures from Pittsburgh, Philadelphia, and St. Louis.
One of the treasures is a New Orleans streetcar named Desire, which was pictured on the cover of LIFE Magazine in 1947 after a play entitled 'A Streetcar Named Desire' debuted on Broadway.  The streetcars sister, a trolley of the exact same color and model, was featured in a 1951 feature film of the same name starring Vivian Leigh and Marlon Brando.
When guests visit, they will have the opportunity to learn first hand the origins and development of the streetcar or trolley.  Guests will not only enjoy a 4-mile streetcar ride, but also see how the history is being preserved and restored.
The staff at the Pennsylvania Trolley Museum is excellent and is willing to answer any question you may have.  The interesting fact is there are only six paid staff members, while the rest are unpaid volunteers.  There are a number of younger and older volunteers; all of whom have a passion toward the history of the streetcar.
Volunteer Alex Bruchac, who drives from Cleveland Ohio to volunteer, was the docent for my tour of the Pennsylvania Trolley Museum.  "You'll have the opportunity to come and see the history of transportation," said Bruchac.  "As you receive the tour, we explain the beginning of transportation from the horse car before the electric streetcars and railway, and how cities grew around them."
After 50 years, it is amazing that people visit or even return to this unique destination.  The museum strives to preserve an era that many people will never experience.  I did not grow up with streetcars but I know a number of people who did.
When asked why people have been visiting the museum for 50 years, Bruchac said, "Its the fun of the ride, the sounds, the smells, it isn't available in the Pittsburgh area especially the antique aspect."
"It's truly a lot of fun and great learning experience." he added.
A visit to the Pennsylvania Trolley Museum is indeed fun and a great learning experience.  Only by visiting will you ensure the museums survival for another 50 years.   This place will take you on not just a ride down memory lane, but a trip of a lifetime.
For more information, please visit http://www.pa-trolley.org/
About the Contributor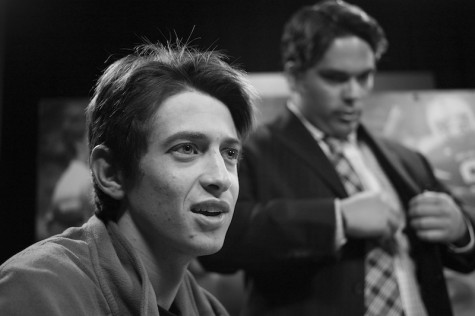 Mike Funyak, Staff Reporter
A Senior Business major with a concentration in Management at Robert Morris University, Mike is a Staff Writer and Blogger for "The Sentry."

In...