'Round about Pittsburgh: Horne's & Kaufmann's
Horne's and Kaufmann's department stores that once graced downtown Pittsburgh for over 100 years might be gone but will always be remembered.  Both department stores had numerous locations around the city but remained headquartered in Pittsburgh Pennsylvania.  Joseph Horne started his department store in 1849 and quickly built a large building in downtown Pittsburgh in 1879.  The Kaufmann store located in downtown Pittsburgh was built in 1877 and remained in operation until 2006.  Brothers Jacob and Issac Kauffman established Kauffmann's Department Store in 1871.  Years later, relative Edgar J. Kaufmann, would run the business for a number of years.
Although Horne's and Kaufmann were cross-town rivals, both stores had their loyal patrons.  Interesting enough, years later, both department stores would be owned by the same company.  In the early 1990's Federated Department Stores Incorporated purchased Horne's franchise.  Before purchasing Horne's, Federated Department Stores owned and operated the Macy and Lazarus stores.  Soon after Horne's was purchased, the Horne's name disappeared and was replaced with Lazarus.
Kaufmann's located in downtown Pittsburgh was located in a building called "The Big Store."  The building was large and sported a unique outdoor clock.  Known as the Kaufmann's Clock, the phrase, "Meet Me Under The Kaufmann's Clock," became common and the clock, a Pittsburgh icon.  In 2005, Federated Department Stores Incorporated announced it had purchased Kaufmann's.  As the company began to expand across the United States, the Lazarus name and department stores were rebranded Macy's.
In early 2006, I remember hearing rumors that Kaufmann's was next on the list to be rebranded Macy's.  I remember thinking, there is no way they would remove the Kaufmann's name.  Later in the year, what I thought was impossible, occurred.  The Kaufmann's name was retired and the stores were renamed Macy's.  Federated Department Stores Incorporated also changed their name to Macy's Incorporated.  Although the department store is now Macy's, "The Big Store" stonework still has the Kaufmann's name.  The infamous Kaufmann's clock remains as well.
Like the Kaufmann's store, the former Horne's building still has reminders of its past use.  Building tenants still honor a Horne's tradition by putting a Christmas tree on the corner of the building.  During Pittsburgh's Light Up Night, the Horne's Christmas tree is lit up for the holiday season.
I recall walking in the former Kaufmann's building with my family when I was younger and just being amazing by its size.  I will never forget the first time I saw and walked under the clock.  To this day, Pittsburgher's still meet at this spot regularly.  "Meet me under the Kaufmann's Clock on 5th Avenue and Smithfield Street, across from the old Frank and Sedars."
About the Writer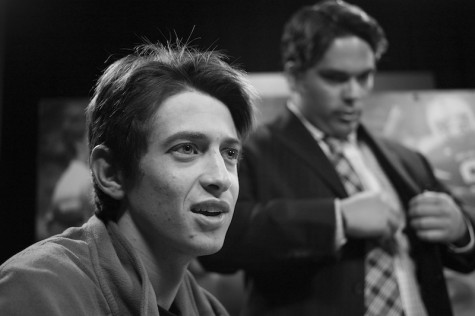 Mike Funyak, Staff Reporter
A Senior Business major with a concentration in Management at Robert Morris University, Mike is a Staff Writer and Blogger for "The Sentry."

In...