Tyler, The Creator brings "IGOR" to life at Stage AE
PITTSBURGH, PA — Rapper, singer, and celebrity personality Tyler, The Creator performed at Stage AE for his "IGOR" tour. A few other friends and I jumped on the opportunity to see him at Stage AE. We were all thoroughly impressed by the entire concert, with Tyler making it clear that a lot of effort went into every part of the performance.The concert did not disappoint in bringing energy and personality into Tyler's performance or the portrayal of his character Igor.
The concert featured two opening acts, who set the tone of the night to come fairly well. Rapper GoldLink was the first opener. He performed various tracks off of his 2019 album, "Diaspora." His performance was alright, but struggled to mesh well with the audience. His act led into the next performance; the one and only Jaden Smith. He energized the crowd with songs from his recent LP, "ERYS." Smith impressed us with his performance. Smith commanded attention and gave the audience just enough energy before making way for Tyler, The Creator.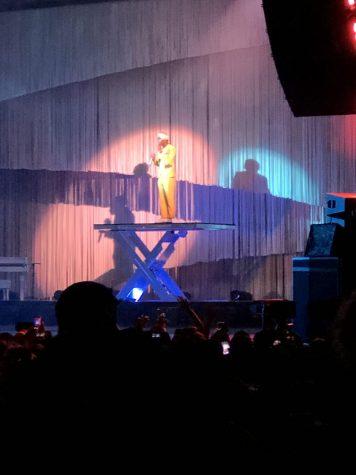 Tyler entered the stage and immediately got to working over the audience. I must commend the dedication to the character Tyler goes through with the outfit for Igor. Performing the entire concert in a full suit and bowl-cut wig, along with his portrayal of the character added a lot to the experience. Tyler played the majority of the track-list for his "IGOR" album. Some of the highlights from this portion being the piano solo before the start of "EARFQUAKE," as well as his stage presence and delivery on tracks like "New Magic Wand," "A Boy Is A Gun" and "What's Good."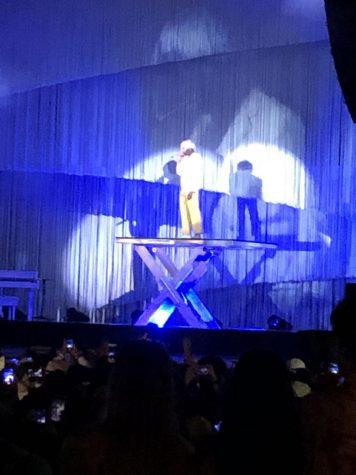 Tyler, The Creator dug into his back catalog and performed some of his older songs from his albums "Flower Boy," "Wolf" and "Goblin." Some of the highlights from this portion included an unexpected performance of "Yonkers" off of "Goblin," as well as "IFHY" from "Wolf." From "Flower Boy," Tyler, The Creator played the majority of the most popular songs off of the album, including "Boredom," "911/ Mr. Lonely" and "Who Dat Boy."
Overall, Tyler, The Creator delivered exactly what fans would hope for from one of his concerts. While it took a little bit to get going, Tyler brought a ton of energy and flair in his delivery and interactions with the audience. My friends and I had an amazing time, and the crowd was hyped up during the entirety of the performance. This concert was a fun way to experience the "IGOR" album in a fresh, new light and it was a treat to hear some old classics played live again.