Yorktown hosts Irish culture presentation
Garret Roberts, Arts and Entertainment Assistant Manager
October 24, 2018
MOON TOWNSHIP – The Irish culture came to life, and death, in Yorktown's Ferris Ballroom on October 24. The event featured Irish folktales, live music and ghost stories. Aiming to teach about a new culture, while offering some Halloween fun, the event showed a culture some on campus may not have seen before.
"Halloween comes from the Celtic celebration of the start of winter and bringing in of the harvest," said Dr. Heather Pinson, the one who organized the event. "All Hallows Eve is this conglomeration of Celtic mythology. I thought it would be a great time to talk about Irish folklore and music."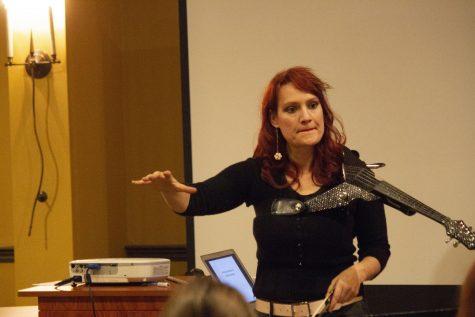 The focus of the event was the Irish folktales that aren't typically told in history books. Ranging from fairies to banshees, the myths and legends of the culture were displayed in a way for listeners to easily understand and remember. While the stories may not be as frightening as horror movies today, they are an accurate representation of how the culture viewed spirits.
"For us, we understand it more as ghost stories," explained Pinson. "But in all actuality, it's closer to the Native American spiritualism. Native Americans here believe that an earth goddess is bound into place with trees, forest and an animalistic incarnation. The spirited world is embedded in nature. The Irish myths believed this as well."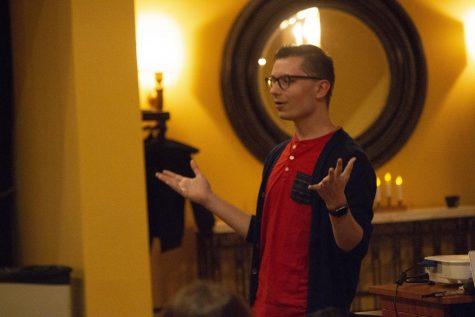 The event featured live music performed by Pinson, who is an experienced violin player. Acting as violin player in "Antz Marching," a Dave Matthews cover band, as well as years of experience have allowed her to thrive as both a player and scholar of music. "I'm a classically trained musician, but I learned how to improvise and play country, rock, jazz and Cajun" said Pinson.
While traditional Irish music is relegated to the classic version of the violin, Pinson added her own unique flair with the electric violin. Irish music itself has no single style, which allows for creativity when playing. The improv used in rock and other genres lends itself to the Irish tunes, allowing for a sound that is unique and interesting.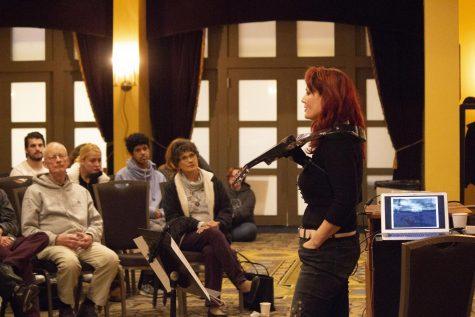 "It's the same thing, but there is a different take on it depending where you grew up in the country," explained Pinson. "The improv isn't in the melody, but rather in the ornamentation of the piece."
The event was hosted in part to raise awareness for the Faculty Led Education Abroad Program (FLEAP) to Ireland in May of 2019. The program was started by previous RMU professor Jim Vincent and continues to be a popular course today.