How to dress in the office Q&A
Shelley, the Marketing & Fashion Coordinator at The Mall at Robinson, shares her knowledge on styling for the office. 
RMU Sentry Media: How is choosing workplace attire different from "street" clothes?
Shelley: I've always believed that your clothing is a little dwelling that you are inhabiting for the day, so with that in mind: it's important to always feel like yourself. You wear your clothes your clothes don't wear you. So even though you want to follow "wardrobe appropriate guidelines" you never want to feel like you're wearing someone else's clothing. However, it's very important to remember that everything is "not about you. Arriving professionally dress says you care about the company and the employees and the interviewer and that is someone that will be a benefit to the team! Here's my favorite word … POLISH! Ask yourself if you look polished. For example, here are a few simple guidelines:
1. If you love denim and your new job promotes casual days keep it crisp. A structured jacket balances a more casual denim bottom or pair a stylish denim jacket with black pencil skirt or pants.
2. Absolutely avoid overtly sexy clothing. There is no faster way to take the emphasis off your brilliant mind. You can look great every day and still be noticed for your work.
3. One to three accessories is perfect (and I always say confidence and a smile are the most important accessories!)
4.  Let the mirror be your bff. Take a look, assess the outfit as a whole and edit! A watch is a great accessory for males and females.
5. Fit is paramount. Ill fitting clothing does not exude professionalism or polish, so find a good tailor.
6. Skip yoga pants and muscle tees unless your profession is fitness instructor.
7. Think "duchess effect" Nude stockings are back en vogue and shout "polish."
8. Walk with confidence. Teetering on a pair of stilts is never a good thing, and men should definitely invest in a great pair of shoes.
RSM: Could you give some tips for choosing stylish, yet appropriate pieces for the
workplace?
S: If I had to choose 3 items they would be: (females) a pencil skirt. It
looks great on most silhouettes, a crisp blouse in ivory or white (ivory looks rich
and polished and is perfect with a fab strand of pearls); and a great jacket … black
or any neutral. (men) great fitting trouser, blazer and white button down. All of
the pieces are multi-taskers and will stretch your closet until you can add some
additional items.
RSM: How should students dress for a job/internship interview?
S: I'm totally "over-generalizing" here but in most situations a simple neutral suit or suit separates are best. You can add accessories for a little flair. Feel like yourself without over doing it; you can also go a bit less formal if the interview is more casual. I suggest checking out the employees prior to the interview to get a feel for the workplace attire. A shoe with a closed toe is best…even in summer sandals are typically way too casual. Again, think "polish".
RSM: I've heard from many career-minded experts that job interview apparel should be
very simple and plain- is there a way; in your opinion, to stay appropriate but still
have some style or personality in this situation?
S: Yes, as I mentioned above: be yourself. Avoid outrageous accessories that are going to detract from what you are saying but your unique personality, skill set and talent should be evident and sometimes conveyed through your wardrobe.
RSM: What would be the number one professional piece females should invest in?
S: A neutral suit. It can be worn together or with separates to stretch your wardrobe!
RSM: How about for males?
S: Same as above: very necessary and it's more affordable and more versatile than you might think!
RSM: In the job interview setting- is all jewelry distracting/inappropriate?
S: Not at all. a great first impression can set you apart from the crowd, however, remember that old saying about too much of a good thing? If you normally wear a lot of jewelry, just consider toning it down for your interview to avoid any distractions. Earrings and necklaces are better if they are small and simple, and I really recommend pulling back a bit on rings. For a night out they are fun, but in an interview it's probably best not to wear more than one ring on each hand.
About the Writer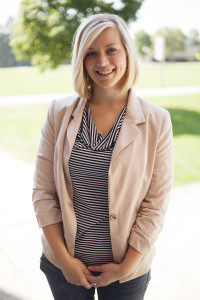 Leah Moose, Staff Member
A junior journalism major at Robert Morris University, Leah is a staff writer and photographer for the student-run newspaper, "The Sentry."

Additionally,...