A new brand of 'Late Night' television
Next month, late night television is going to be dominated by The National Broadcasting Company. Current Late Night host, Jimmy Fallon is set to take over for Jay Leno on The Tonight Show, and Seth Meyers of Saturday Night Live will move into Fallon's time slot.
Last Tuesday, Meyers was a guest on Late Night. During his interview with Fallon, Meyers stated that he is nervous about interviews because he does not have much experience doing them. The highlight of the show, though, was when Fallon pulled a giant plastic pickle from behind his desk and gave it to Meyers. A Late Night tradition started by David Letterman in 1993, the pickle signifies the "Passing of the Torch" to the new host of the show.
Both shows are sure to draw thousands of viewers due to the high profiles  of the hosts and the guest stars. Fallon has Will Smith and Bono lined up as his first guests when he moves into his new time slot on February 17, while Meyers will ease into his new Late Night show with a guest he is quite familiar with, Amy Poehler, his former Saturday Night Live buddy, and former "Weekend Update" co-anchor.
After twelve years, last Saturday night marked Seth Meyers' final episode as a cast member on SNL. The send off was outstanding as Amy Poehler, Andy Samberg, and Bill Hader (as Stefon!!!), along with current co-anchor Cecily Strong, all joined him for his final "Weekend Update" segment. I cannot wait to see when these guys are guests on Late Night. The former cast members of the mid 2000s are truly a family and it is always enjoyable to watch when they are reunited.
Being a huge SNL fan, I cannot wait for Fallon and Meyers to air back-to-back! (Jimmy Fallon also started his career on Saturday Night Live). Currently, Jimmy Fallon is the only late night personality that I actually enjoy watching. Jay Leno is terrible and should never have taken back his slot from Conan O'Brien whose show on TBS is now on too early for my liking. David Letterman is just plain annoying. Jimmy Kimmel is alright, but I prefer Fallon any day. Personally, I am more excited to see Seth Meyers on Late Night than I am to see Fallon on Tonight.
Fallon will undoubtedly continue his greatness and make an even bigger name for himself. His current show is absolutely hysterical, even when his guests are sub-par. He has slow-jammed the news with President Barack Obama. If that isn't cool, I really don't know what is. If you don't know what I am talking about, look it up, it is great! Hopefully Fallon will carry his current segments with him to his new show (and have Justin Timberlake as a guest in the first week, fingers crossed!)
Meyers is the new guy on the block. I am anxious to see what kind of new ideas he will bring to the show. I doubt he will do as many sketches as Fallon, but I feel like he may bring a few things over from SNL. He has already stated that he would like to have fictional interviews much like characters from "Weekend Update."
Regardless, both shows are going to be groundbreaking for NBC. I will definitely be tuning in as much as possible for the two-hour block. The Tonight Show Starring Jimmy Fallon kicks off on Monday, February 17 at 11:35 P.M. while Late Night with Seth Meyers premiers the following Monday, February 24, directly after The Tonight Show.
About the Writer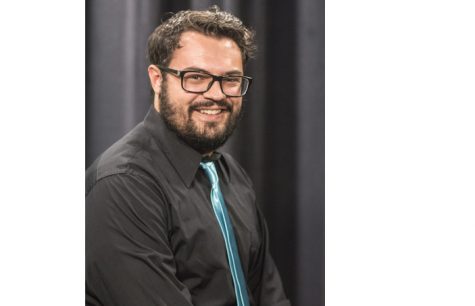 Matt Merlino, Chief Graphic Designer
A senior Media Arts (Graphic Design) major, Matt is the award-winning Chief Graphic Designer for RMU Sentry Media. His design work has won first place...