Colonial Theatre presents hilarious play 'Don't Dress For Dinner'
This slapstick comedy makes for a perfect Valentine's date night
Robert Morris University's Colonial Theatre is putting on a play unlike any other this Valentine's Day weekend.
The play, directed by Michael Misko, is titled "Don't Dress for Dinner." The show centers around a British couple and their cheating scandals. One simple dinner turns into chaos after a miscommunication, leading to a show full of laughter.
Bernard (Brent Feitl) invites mistress Suzanne (Anya Chasovskaya) over for a weekend when his wife Jaqueline (Breanna McCann) is supposed to leave for her mother's.
However, Jaqueline is also cheating on her husband with his friend Robert (Josh Herrara).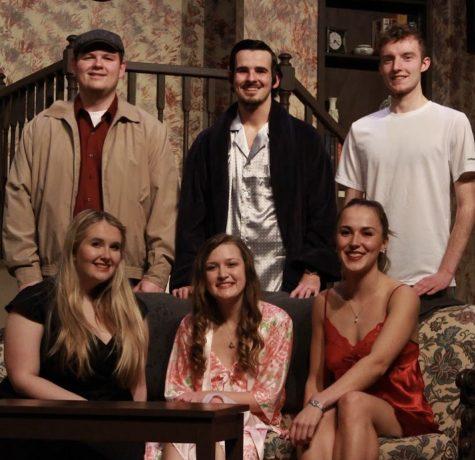 Feitl does a great job of portraying a man who wants to stay in his marriage and will do anything to prevent his wife from finding out about his affair. McCann's stage presence dominates the stage as she fully becomes her character.
Herrara is a scene-stealer with his intense facials and hilarious line delivery. Chasovskaya portrays her role fabulously while performing in tall high heels.
Gigi Kokai plays Suzette, a cook who gets thrown into the drama. Kokai's British accent is pristine and her comedic timing is flawless. Let's not forget Suzette's husband George (Alex Kladny) who steals a scene in act two.
This six-person cast makes for time to get to know each of the characters. The ensemble is well-rehearsed and has effortless chemistry.
The crew of the show did an amazing job behind the scenes as well. Erin Baker and sound manager Derek Ziarko made sure every voice was heard. Noah Kulczycki built a fantastic set and Carly Kaminski did a great job as stage manager.
This Valentine's Day weekend, "Don't Dress for Dinner" is a slapstick comedy that makes for a perfect date night. It's a show that will leave you smiling and laughing throughout and you won't want to miss it.
"Don't Dress for Dinner" runs this Thursday through Saturday at 7:30 p.m. and Sunday at 2 p.m. in RMU's Massey Theater. Student tickets can be purchased for $5 at the Student Life Office during the presale. Additional tickets can be purchased for $10 at the door or reserved at rmu.edu/theatre.