Dangerously decadent: Salted caramel brownies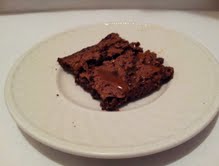 In terms of desserts, nothing could be more amazingly simple and satisfying than a brownie. For those who crave chocolate and love the taste of salted caramel, this is the recipe for you. Ordinarily, whenever I bake brownies I stick to using just your typical boxed brownie mix, and I add whatever other ingredients I feel it is lacking. This time I decided to be a little daring and make them from scratch using a recipe I found in one of my grandmothers old cook books. The result was amazing -not to mention delicious. After trying it I doubt I will ever go back to boring old boxed brownie mix. Here is my version of the recipe.
Recipe
1 ½ cup of sugar
½ cup of flour
½ cup of cocoa
¼ teaspoon of salt
¼ teaspoon of baking powder
2 eggs
½ cup of vegetable oil
1 teaspoon vanilla
Caramel syrup
To start, pre-heat your oven to 350 degrees, and have your brownie pan set aside and covered in cooking spray. Next, add all of the wet ingredients (eggs, oil, and vanilla) together and mix either by hand or with a hand mixer.
Add the sugar and once mixed with wet ingredients, add cocoa.
Before you add the flour get a separate bowl and mix the flour, baking soda, and salt together this allows an even distribution of the baking soda and salt so your brownies won't be flat.
Once the dry ingredients have been mixed add them to the wet mixture. Depending on how you like your brownies you may need to add a little bit of water, or more flour depending on if they are too runny or too thick.
Place them in the oven and let them bake for 20-25 minutes.
Once the brownies come out of the oven, let them sit and cool for 10-12 minutes, and then when they are cooled, drizzle caramel on the top. If you are not a fan of salted caramel you can leave them as is- if you do enjoy the salty/sweet taste then all you have to do is sprinkle a teeny, tiny pinch of salt with the caramel on the top of the brownies. This recipe is one of my favorites and one I will be making them more often.