A hitchhiker's guide to a public funeral
One November morning in 1963, college student, Jim Vincent hitchhiked from Hiram, Ohio to Washington, D.C. The decision to make the trek was as easy for him as it was to stick out his thumb to signal the passing vehicles. Even his new acquaintances were on their way to the same town, for the same reasons. After traveling about 300 miles with a truck driver, a mother and child and a single man, Vincent made it to D.C. As he stood on the bridge that connects Washington D.C. to the Arlington Memorial, Vincent's purpose for journeying so far was realized as President John F. Kennedy's casket passed him by.
Vincent does not recall making the decision to hitchhike across states to be present at JFK's public funeral because he just knew he was supposed to be there. He simply put on a jacket and left.
"I knew that I wanted to be there- I couldn't stand the confusion and the grief of the people who didn't know what to do. I had to do something so I said: I have to go to the funeral. And I did," said Vincent.
Earlier that November, Vincent was driving to his British Literature course at Hiram College when he first heard of the assassination on the radio. When he got to class, he informed his professor and classmates of the assassination. He remembers the student who sat behind him was impatient to start class instead of dwell upon that morning's news event.
"He said, 'I don't care, whether JFK was assassinated or not, I want to have class.' It was one of the few times I felt angry at the time," said Vincent.
As for the rest of his peers, Vincent said most of them looked like they were just wandering around in their sleep.
"Americans were shocked. Nothing like this had ever happened to us before, we couldn't believe it was happening to our country. People were speechless. Just shaken to the core," said Vincent.
Vincent explained that America's time of ideals were officially over. The death of JFK could also be considered the death of American optimism or a time called "Camelot."
Besides this damaged perspective, Vincent said the '60s were a turbulent era with a scent of the civil rights movement in the air.
"The United States was a rich country but it was coming out of a racist past. So by 1963, the hopes and dreams of America were being challenged by a conservative political movement that tried to keep the status quo," said Vincent.
He also added that there were many musical influences of the time. By simply walking down the street, one could determine who was who just by the music artist they enjoyed.
"If you were a marijuana user, you listened to the Beatles. If you were a coke addict, you listened to The Stones. If you drank beer and threw the beer cans out of your pick-up truck, you listened to Creedence Clearwater Revival and if you were a civil rights person, you listened to recoding artists like Marvin Gaye," said Vincent.
If there could be a positive influence in his life from this marring event of America's history, Vincent has found the silver lining. He compares the broadcasters who reported JFK's initial assassination to the 2013 Super Bowl sportscasters during a blackout that caused about 30 minutes of dead air time.
"One of the things I love, and it's weird to say, but you take the Super Bowl. All the announcers had their scripts ready but what they weren't ready for was 35 minutes of dead air. That's when you find out who's smart and who's not. And of course, what happened with the Kennedy assassination, it wasn't scripted," said Vincent.
About the Writer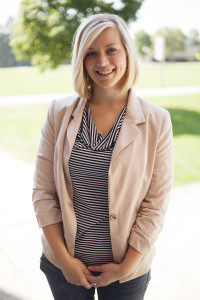 Leah Moose, Staff Member
A junior journalism major at Robert Morris University, Leah is a staff writer and photographer for the student-run newspaper, "The Sentry."

Additionally,...