Freshman 101
–An Inside View to All Things RMU–
Being a college freshman is arguably one of the scariest titles a person can have. Between the roommate situation, the foreign campus and the long-winded debate over when and where to buy textbooks, freshmen are bombarded with a large amount of information to grasp. Although this phenomenon touches many different universities and college campuses, RMU offers many unique details only a member of the community could sniff out. It takes a dedicated, seasoned veteran to offer words of advice for those RMU students of the freshman persuasion.
1. Alternative Studying
If you find yourself in a last-minute panic to study, as college students often do, typically a quiet environment is required. The obvious idea would be the campus library; while this is a wise choice, occasionally its space is filled during the heated times of a semester (midterms, finals etc.) The area around the rotunda (the spiral staircase) has comfortable seating area and tables readily available for some quick reading.
The Starbucks seating area in the Hale Center, a computer lab under Jefferson (the campus gym) and even an empty classroom all work wonders while on deadline
2. Introduction to Tucci
John Tucci is more than just a janitor here at RMU. He is one of the school's biggest fans, inspirations and performers. Potentially his best talent is brightening a student's day. You will know when you meet him and when you do, make sure to say thank you.
3. Advanced Finances
Don't be fooled by the large sum of money from your meal plan. It will surely be sufficient but getting in the habit of checking your personal amount of money left after most purchases (this total is shown to you on the back of the cash registers around campus) is a great idea. If it is the end of the semester and you do happen to notice your amount is less than what it should be, do not panic; curb your Starbucks coffee addiction for a week or two and drink more ice water.
4.  RMU Athletics & You
Make it a point to attend at least several different types of athletic events. RMU's campus is pretty well known for its high level of athletic interest and our dedicated fans show it. Be warned now, however, showing up for the Homecoming football game 45 minutes in advance is not going to score you comfortable or great seats. If that is not a huge priority of yours, soak up the atmosphere with the other students cheering on the lawn.
5.  Perks 101
If you hear others discuss how easy it will be to stay fit and avoid the Freshman 15 just by walking to class on RMU's admittedly hilly campus, chances are he or she has not been a student here for very long. The moral of this story is to take advantage of the perks of being a college student.
Use the Jefferson fitness center or even the ice-skating rink located at the Island Sports Center which is free to all students.
6.  Intermediate Social Circles
Do not be afraid to make friends with upperclassmen. Sometimes it is easy to be caught in a frenzy of making friends with other freshmen because you are each in the same boat: nervous and friendless. Especially with all of the events geared for incoming freshman, it is important to remember that upperclassmen can just as easily become a new friend.
7.  Retail Therapy Studies
Beware of slipping into shopping shock. If you are from a smaller town or rural area, you might not be used to the abundance of retail that surrounds this area. Allow yourself to explore its marvels, but be careful not to max out the card your parents finally gave you.
8. Meteorology Planning
Invest in an umbrella, raincoat and reliable footwear. For those of you not from this area, the weather here can be described as moody at best and being prepared for its somewhat random outcomes is advised.
9.  Origins of Obsession
Do not become unhealthily obsessed with making friends. While it is, indeed, important to meet new folks at college, do not make it your life's work to make a crowd of close friends as soon your college experience begins.
10.    Free Stuff Exploration
Grab all of the free stuff you can carry. A free t-shirt here, a few slices of pizza there can go a long way for a college student's wallet. Obtain an "on-the-house" radar as soon as you can.
About the Writer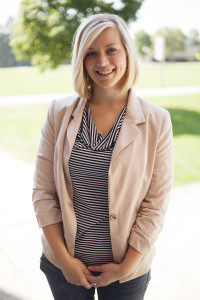 Leah Moose, Staff Member
A junior journalism major at Robert Morris University, Leah is a staff writer and photographer for the student-run newspaper, "The Sentry."

Additionally,...