You know what really grinds my gears? Volume II
Mr. Original is back at it again. After a relatively successful first shot, I figured I'd spill out a few more things that really tick me off.  Actually, I think I just really like to complain about things in general. But that's totally okay because all of what I am about to say can probably relate to someone else… maybe…
…You know what really grinds my gears? Bandwagon Penguins fans.
"Going down to the big screen for the Pens game with my besties! #fanforlife"
Yes folks, hockey has a regular season that started seven months ago.  Did you watch any of those games? Did you even acknowledge any of those games?
No?
I do not want to talk to you because the first game you watched was last Wednesday night.
That does not qualify you as a fan. At all.
How many points did Jayson Megna record this season?
Bandwagoner's response: Who?
Yeah, exactly my point.
…You know what really grinds my gears? When I walk into a class and there are eraser shavings covering a desk.
Come on now, previous person sitting in the seat. Is it really that difficult to wipe the stuff onto the floor?
I bet you chewed on the pencil that those eraser shavings came from. At some point the eraser was in your mouth. Those were saliva covered eraser shavings.
Just wipe them off the desk yourself.
Common courtesy.
…You know what really grinds my gears? Dan Dierdorf or Mike Mayock announcing NFL games.
I won't go into detail to refrain from being insensitive, but if you have ever watched a game in which either man has provided commentary, you "thurely" know what I am talking about.
…You know what really grinds my gears? When people use "hashtags" that do not have a Twitter account.
YOU CAN'T DO THAT PEOPLE! #notyourplace
I really don't know what else to say about it. #Alec #Roommate
…You know what really grinds my gears? Obnoxious children.
Attention parents, do not bring your kids to a social environment, such as a movie or any other venue that involves silence. I do not want to hear your kids cry and ask hundreds of questions. Nor do I want to hear that they are scared at a specific part.
It's not the time or the place for any of that garbage.
Just sit down, and shut up.
This has been the latest installment of "What Grinds My Gears."
About the Writer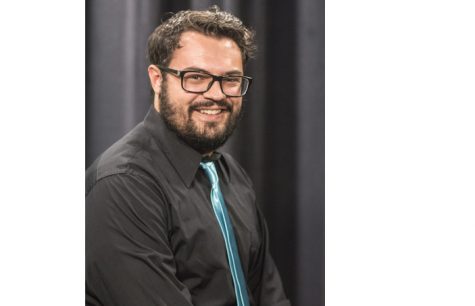 Matt Merlino, Chief Graphic Designer
A senior Media Arts (Graphic Design) major, Matt is the award-winning Chief Graphic Designer for RMU Sentry Media. His design work has won first place...