For the Love of Food: Gourmet burgers & potatoes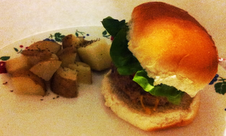 As a resident foodie, there are few things I love more than hamburgers. Although traditionally reserved for summer time, this is a recipe I have made dozens of times and one that is perfect for all occasions. Normally I would make homemade French fries with this recipe, but due to time constraints I often opt to make my famous seasoned, diced potatoes. This recipe is super easy and is sure to impress everyone- especially if you are somewhat cooking-challenged.
To make this recipe you will need:
A skillet or frying pan (preferably cast iron)
A saucepan or small pot
1 pound of hamburger meat
1 cup of breadcrumbs
1 egg
1 packet of ranch dressing
3-4 potatoes
1 teaspoon of basil
1 teaspoon of oregano
1 teaspoon of salt
To start, prep your potatoes and rinse them with water and start dicing them into cubes. They need to be small enough to cook quickly but not so small that they are too small to enjoy. Once all of your potatoes are chopped. place them in your small pot with about 1 cup of water. The water is what steams the potatoes so you need enough to steam them, but not so much that they are drenched in water. Stir in your basil and oregano then place a lid on the pot and put heat on medium. Your potatoes should take 10-15 minutes to cook stick with a fork and if they are soft they are done.
While your potatoes are boiling you can work on your hamburgers, get out a bowl and add to it your hamburger meat, egg, and breadcrumbs. You will want to mix it all together really well this will ensure the hamburger doesn't fall apart. Then add  half a packet of ranch dressing mix to your burger mix. This gives it that ranch flavor that is perfect in burgers. Turn on your frying pan to medium heat and spray well with cooking spray or cooking oil, once your ingredients are together use your hands and shape hamburger meat into patties. You will want to cook the patties on each side for about 5 minutes each. You will know if it has been cooked if they are brown, if they are really dark then they are most likely burned.
You can enjoy this recipe with any of your favorite toppings, and it is a great easy recipe to show off your new found culinary skills. For more recipes and ideas, check out past recipes from For The Love of Food!
About the Writer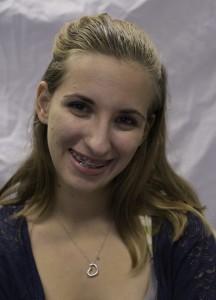 Elizabeth Witowich, Contributor
Elizabeth is a freshman majoring in journalism and is a writer for RMU's student-run newspaper, "The Sentry." She is studying to go into print or online...