For The Love of Food: Pizza edition
As a college student and want-to-be chef, there are few things I like to eat more than pizza. I have probably consumed dozens of pizzas over the years, just because I love it so much, but my favorite way by far is to make it myself. While this pizza recipe may not take the place of your favorite pizza shop, it is super easy and fun to make, not to mention it's a great way to get your friends involved in the cooking process with you.
This recipe makes two large pizzas, or 3 small pizzas
For this recipe you will need,
3 packets of yeast
3 cups of warm water
1 teaspoon of sugar
1 teaspoon of olive oil
6 ½ cups of flour
2 cups of shredded cheddar cheese
2 cups of mozzarella cheese
2 cans your favorite type of spaghetti sauce
To start pre heat your oven to 375 degrees, and get out a large pizza pan or cookie sheet of your choice. You don't have to have a special pizza pan to make this recipe, and you can even use a large cookie sheet and make square pizza, which is equally tasty. No matter what pan you use make sure you spray it with cooking oil.
First, get a large mixing bowl and fill it with 3 cups of warm water. The water must be warm; if it is too hot or too cold the bacteria in the yeast will die and the dough will not rise. Next add all three packets of yeast, olive oil, and sugar. Stir the mixture around a little bit and then you can start to add your flour one cup at a time. You can either stir the dough with a spoon or if you have a mixer that has a dough hook attachment you can use that instead. Once all your flour is in you will want to use your hands (unless you are using then mixer then you can skip this process) and push into the dough for about 10 minutes, to knead to the dough and activate the yeast. Once the dough has been kneaded, you will want to cover the bowl in plastic wrap and let it sit on the counter for 30 minutes.
Once your 30 minutes is up, using a knife, divide your dough into 2 sections for 2 large pizzas. Place the section of dough you need off the greased pan and using your hands start from the middle of the dough and push and work it to the edges of the pan. Once your dough has been spread out thoroughly you can do something fancy with the crust, or leave it as is. Then add your favorite sauce and toppings and put it in the oven for 25 minutes. You will want to let your pizza sit for a minute or two before cutting it, but once its ready you have a delicious meal to share with your friends no take out required.
For more recipes and ideas check out mostlydesserts.blogspot.com
About the Contributor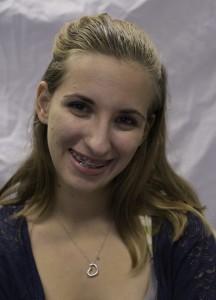 Elizabeth Witowich, Contributor
Elizabeth is a freshman majoring in journalism and is a writer for RMU's student-run newspaper, "The Sentry." She is studying to go into print or online...