For the Love of Food: The best chocolate chip cookie recipe ever
I started baking when I was 4 years old in my great grandmother's kitchen. While I was far from being considered a master chef I learned so much from my grandma on being patient and consistent. While my methodology and style of cooking has changed over the years, there is one thing that has maintained consistent, this being of course my famous chocolate chip cookie recipe. I have made this recipe so many times over the years that I have lost count, but while everyone has their preference this recipe is certainly the best and you would be hard pressed to find anyone to disagree with you.
For this recipe you will need,
1 cup of margarine (preferably Bluebonnet cooking margarine)
¾ cup of sugar
¾ cup of brown sugar
1 egg
1 teaspoon of vanilla
1 teaspoon of baking soda
¼ teaspoon of salt
3 cups of flour
½ a bag of milk chocolate chips
To start, pre-heat your oven to 350 degrees and get out two mixing bowls. Place one off to the side as you will use it later, and use the other bowl to start creaming your wet ingredients. Mix together with a mixer your butter, sugars, egg, and vanilla. You will want to mix on high so that everything is creamed together evenly, once that is mixed take your other bowl and fill it with all of your dry ingredients.
Once all of your dry ingredients (baking soda, salt, and flour) are together mix them with a spoon or spatula to make sure all of the baking soda and salt is evenly mixed within the flour. After you are sure the dry ingredients are well incorporated, add the dry mixture a little bit at a time to the wet mixture and mix with a mixing machine. Once the wet and dry are mixed together evenly you can add your chocolate chips.
Using a cookie dough scooper or small spoon, you can place the ball of cookie dough about an inch apart from each other on a greased cookie sheet. Your cookies should only take about 10 minutes per batch, but you will want to keep an eye on them frequently to make sure they don't burn. Once they are done place the cookies on cooling racks, and get a nice glass of milk and enjoy your new delicious treat.
For more recipes and ideas head over to mostlydesserts.blogspot.com
About the Contributor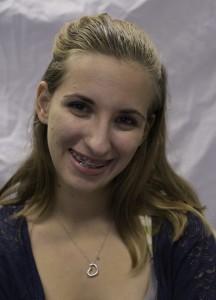 Elizabeth Witowich, Contributor
Elizabeth is a freshman majoring in journalism and is a writer for RMU's student-run newspaper, "The Sentry." She is studying to go into print or online...